The Department of Radiation Oncology is actively engaged in the education and professional training of undergraduates and post-graduates in the field of radiation medicine. It is the largest department of its kind in Canada, and attracts leading faculty who are involved in advancing radiation medicine and have made significant contributions to the field. As an academic unit within the Temerty Faculty of Medicine, the Department of Radiation Oncology is fully affiliated with University of Toronto teaching hospitals.
UTDRO congratulates Dr. Padraig Warde on his appointment to the 2022 Order of Ontario, the province's highest honor.

Congratulations to Dr. Sondos Zayed for being named as Canada's Top 100 Most Powerful Women as recognized by the WXN (Women's Executive Network) and their partners. Dr. Zayed was awarded in the category of BMO STEM, which recognizes women in STEM roles who are challenging the status quo for knowledge and female empowerment.
Please join us in congratulating Dr. Meredith Giuliani for being named a Fellow of the American Society of Clinical Oncology (FASCO).
Back in-person at last! The 2023 UTDRO & STARS21 Research Day event was a wonderful success! We'd love to thank everyone who came out to share their research accomplishments #research #radiationoncology #universityoftoronto #uoft #success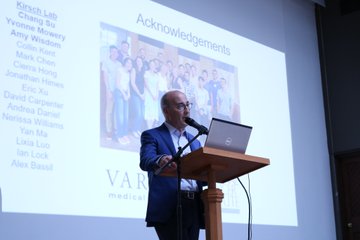 What a wonderful afternoon we had celebrating great achievements & awards at the Medical Radiation Sciences Pre-Convocation Reception for 2023! Congratulations to all of our MRS graduates & award winners! We hope everyone has an amazing time at their convocation! #UofTGrad23