Resources for Radiation Oncology Fellows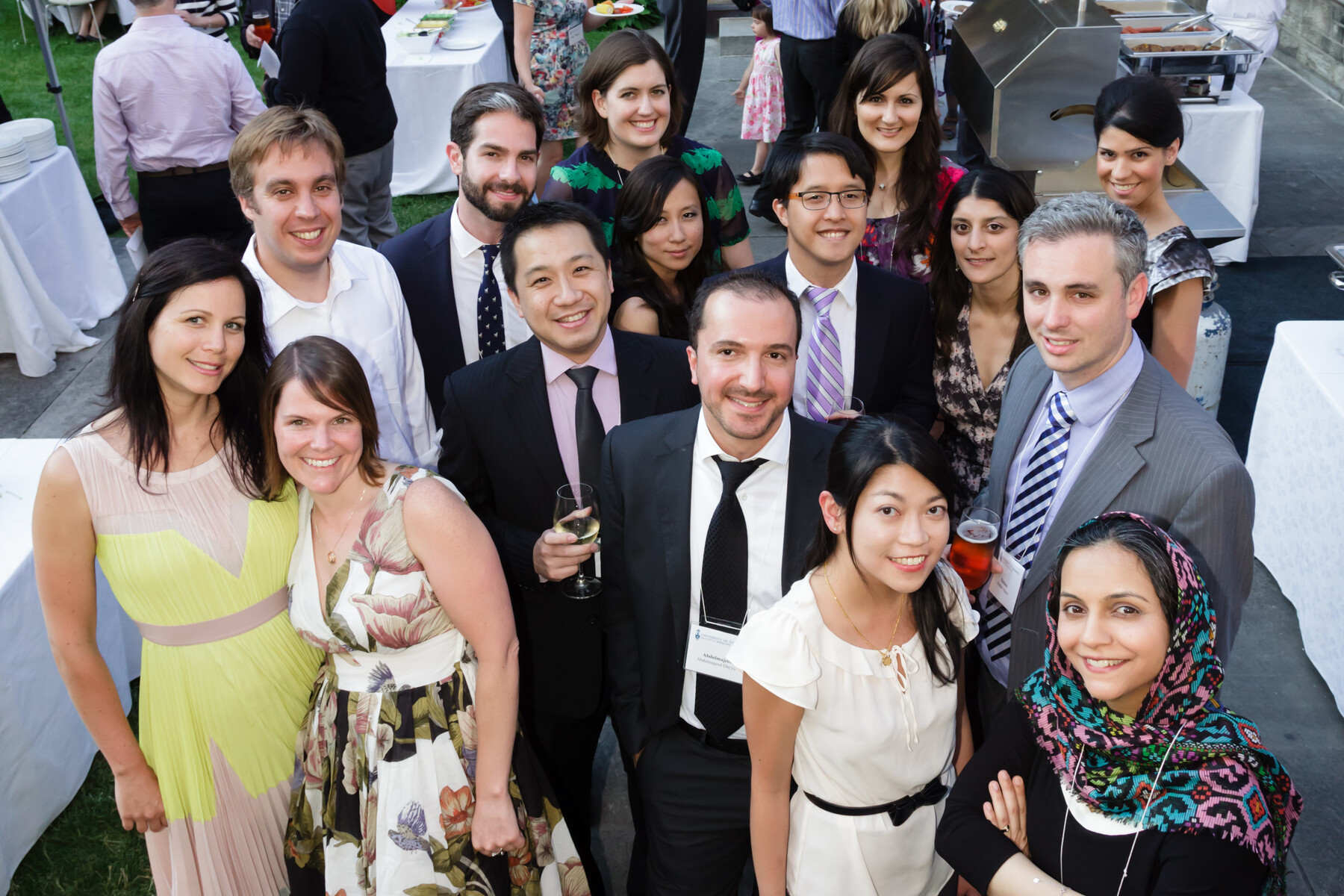 Mandatory Registrations
In order to prepare for your fellowship, you are required to register with the following:
College of Physicians and Surgeons of Ontario (CPSO)
The College of Physicians and Surgeons of Ontario (CPSO) will send out an information pack with all the application material for the certificate of registration which lists all the requirements and documentation required for a successful application. You must strictly comply with all of their requirements.
To register with the CPSO:
you must have received the letter confirming your offer of employment before applying, as a copy of this is required.
your medical school must certify your graduation certificate and send an original medical school transcript sealed and sent directly to the CPSO.
your relevant local medical board in your state/country of origin is required to certify your registration. Depending on your country of origin, these documents may require formal translation.
submit the $156 application, and $260 membership fees by credit card, money order, or certified cheque.
Do not send certifying documents directly to the CPSO as they will not be accepted.
Before you commence your Fellowship, you will be required to complete a Pre-entry Assessment Program (PEAP) at the University of Toronto.
The CPSO will issue a certificate of registration authorizing enrolment in PEAP.
After successful completion of the PEAP period (typically 4 weeks), you will obtain the approval of your Research Supervisor and Fellowship Program Director.
Once approved,  the CPSO will issue a Clinical Fellowship certificate to cover the remainder of your term.
You will then need to renew the PGME registration and renew your computer access by taking a copy of your new registration confirmation to the Toronto General Hospital Post Graduate office (for PMH Fellows).
Canadian Medical Protective Association (CMPA)
You can apply for registration with the CMPA by:
accessing the application form online and entering work (TOW) code 12.
submitting payment by cheque in Canadian funds for the full annual amount or by direct debit on a monthly basis. To set up direct debit, you will need to submit a void cheque from the Canadian account to be debited.
sending all forms to the CMPA using as much information as possible – outstanding details including CPSO number and contact information, as well as payment can be completed once in Canada.
Membership of the CMPA is expensive and the fees are published on their website (currently $2,748 CAD for 2019).
Postgraduate Medical Education Office (PGME) & University of Toronto
Before registering, you'll need your CMPA and CPSO registration numbers. You can obtain these numbers online by using a PIN number and password, instructions for which will be sent to you together with the letter of acceptance from PGME.
To register with U of T's Postgraduate Medical Education Office:
sign and return the letter of acceptance (Letter of Appointment) within 30 days of issue to the PGME Office.
complete and return an immunization record completed by a clinic or health centre.
submit payment of $325 by credit, cash or cheque.
print a copy of your Confirmation of Registration to the Postgraduate Office at the Toronto General Hospital (if working at PMH) to receive your ID card and computer access login. You will also need this form to obtain your U of T library card (T-card).
Filing a reimbursement claim
The fees for registration with CPSO, CMPA and University of Toronto need to be paid by the fellow. Retain the receipts as this is claimable for tax purposes.  The Ministry of Health through their Malpractice Reimbursement Program will reimburse approximately 85% of the CMPA membership.
for an application form for the reimbursement.
Learner Mistreatment 
The Department of Radiation Oncology is committed to enabling a positive learning and working environment for everyone in our community. We support an integrated approach to addressing learner concerns that champions the principles articulated in the Temerty Faculty of Medicine guidelines on managing disclosures of learner mistreatment for medical students and PGME trainees (residents and clinical fellows).
Finances, Taxation, Insurance
You will also need to set up your finances, a social insurance number and health coverage. 
Accommodations and Transportation
Most fellows stay in condos located downtown near the University and several hospitals, however, there are other housing types located nearby. If you want to live farther from the core, it's best to live near a subway station.
Rental accommodation can be found through:
Fellows who are completing their fellowship and leaving PMH are also good contacts, as they are often leaving furnished apartments.
It is a good idea to start looking even before leaving for Toronto to have some sense of preferred locations and prices. Landlords or rental agencies will require two months rental to cover the first and last month of the term +/- an additional deposit at the time of signing the contract. You will thus need to have sufficient funds in Canadian dollars. They will then take post-dated cheques for each intervening month. Occasionally some landlords may accept rental payments by credit card.
Unfurnished vs. furnished housing
Unfurnished accommodation is much more readily available than furnished accommodation, with the latter option being both more limited and expensive. By contacting existing fellows, it is often possible to arrange to take over their rental accommodation. Rental agencies often have offices within condominium blocks or check their notice boards as vacating tenants are always trying to sell off furniture.
You preferably want to stay (see map) west of Yonge, east of Bathurst and close to a subway. South of Dundas becomes more commercial with fewer apartment and condominium blocks. The exception to this is the waterfront on the lake, south of Lake Shore Boulevard.
The downtown area of the city is compact and can be easily traveled on foot. 
Public Transit (TTC)
The main subway line within the downtown area runs in a north-south direction along two limbs of a 'U' along University Avenue and Yonge Street.
Streetcars (trams) run in an east-west direction along most major roads.
Cost:
Single Ticket: $3.25 cash/ $3.20 PRESTO card
PRESTO Ticket: $3.25 one ride/ $6.50 two ride/ $13.50 day pass
Monthly Metro Passes: $156 (plus a one-time PRESTO card purchase of $6.00)
More ticket information can be found here: https://ttc.ca/Fares_and_passes/Prices/Prices.jsp
Hospital Shuttles
A shuttle bus service is available between Toronto General Hospital and Toronto Western Hospital during office hours although the walk takes 15-20 minutes. Shuttle service is also available between Sunnybrook's Bayview Campus and Women's College Hospital. For a shuttle pass, contact the Fellowship Program Coordinator.
Car rental
Cars can be rented relatively cheaply and most fellows choose to rent rather than buy. Parking in the downtown area usually requires renting a parking space in condominium car parks, currently costing around $150 per month. Insurance is expensive and can run into several thousand dollars so check insurance costs before buying. There are many rental car companies within the downtown area. The basic car rental cost usually includes third party insurance cover but does not include loss or collision damage insurance, which starts from around $20 a day. Check the facilities on your credit card as they often include this cover when the rental is charged to the card.
Taxis
Taxis from Toronto Pearson airport are metered by zones and typical fares range from $45-50 to commute to the downtown area.
UP (Union-Pearson Express train)
The UP Express train runs between Toronto Pearson airport and Union Station downtown. One-way adult fares at $27.50 each way and $19 each way with the purchase of a PRESTO pass.
Fellowship Verification Service
UT-DRO will provide prompt verification of training within the UT-DRO Fellowship Program to any verification service or institution, with permission to request the verification from the individual in question.
This service is available for a fee of $200. Verification will only proceed after payment and permission is received. Please note it may take up to 10 business days to fulfill a verification request.
Please direct verification enquiries and any questions to radonc.fellowship@utoronto.ca.
Assistance for Australian and New Zealand Applicants
If you are an Australian/New Zealand applicant interested in the Fellowship Program, you may also contact Dr. Penny Mackenzie at Penelope.Mackenzie@health.nsw.gov.au. Dr. Mackenzie was a former fellow at UT-DRO and can help to answer questions pertaining to the overall fellowship experience from a professional and personal perspective. She will also be able to give advice about the application process, navigating the systems and some of the hurdles for Australia/New Zealand candidates.