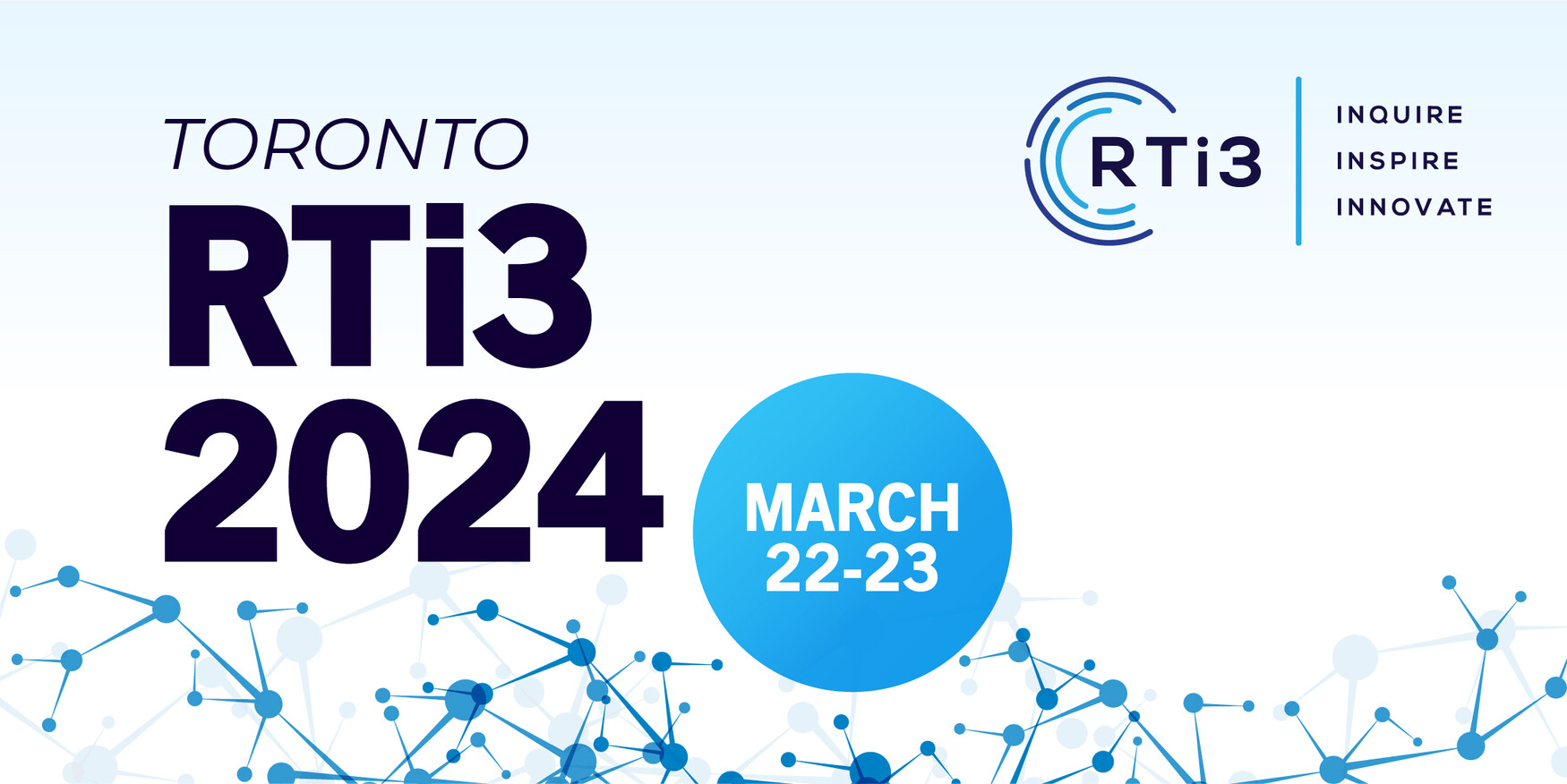 Conference at a Glance
RTi3 is Canada's premier annual meeting for the Radiation Therapy community. RTi3 is committed to advancing the science and practice of Radiation Therapy, showcasing the latest research and clinical innovations. 
Dates and Times
Friday, March 22, 2024 | 8:00 AM - 5:00 PM ET (Social 5:00 PM - 8:00 PM ET)
Saturday, March 23, 2024 | 8:00 AM - 3:30 PM ET
Location and Format
Venue: Cody Hall & Great Hall Event Venues (at St. Paul's Bloor Street)
             227 Bloor St. E., Toronto ON M4W 1C8
Format: In-person
Sponsors for RTi3 2024 is TBD. You may check out our sponsors in 2023.
To disseminate the latest evidence in radiation therapy to inform and stimulate clinical practice
To provide learning opportunities for practitioners to update their clinical knowledge
To facilitate networking and communication and the development of professional communities of practice
To gain new knowledge and understanding on: the innovative application of radiotherapy technology, factors influencing clinical outcomes, quality improvement in radiotherapy, and patient and supportive care
To inform practice knowledge and clinical skills through lectures and workshops on current and new practice models and strategies
To discuss challenges and opportunities related to advanced practice initiatives, career specialization and development, and education and research endeavors
Pre-conference Webinar
Date and Time
Early February. More details will be released soon.
Format
Online. More details will be released soon.
You may check out the details of RTi3 2022 webinar here.
View submission criteria and submit your abstract! Don't miss your chance to participate at this year's in-person RTi3!
View registration deadlines, ticket types, policies, and claim your spot! 
Accreditation
Accreditation information for the RTi3 Conference 2024 will be released soon.
The conference has been granted 12.5 CE credits from the Medical Dosimetrist Certification Board (MDCB) in 2023. 
Planning Team for RTi3 2024
CO-CHAIRS
Lori Holden
RTi3 Co-chair
Odette Cancer Centre
Vickie Kong
RTi3 Co-chair
Princess Margaret Cancer Centre
Kitty Chan
Committee Member
Princess Margaret Cancer Centre
Ruvette Coelho
Committee Member
R S McLaughlin Durham Regional Cancer Centre
Megan O'Donnell
Committee Member
RVH Cancer Care Program
Darby Erler
Committee Member
Odette Cancer Centre
Nawroz Fatima
Committee Member
CVH Carlo Fidani Peel Regional Cancer Centre
Madette Galapin
Committee Member
Odette Cancer Centre
Caitlin Gillian
Committee Member
University Health Network
Winnie Li
Committee Member
Princess Margaret Cancer Centre
Alfred Lam
Committee Member
The Michener Institute of Education at UHN
Brian Liszewski
Committee Member
Ontario Health Cancer Care Ontario
Shaziya Malam
Committee Member
Stronach Regional Cancer Centre at Southlake
Zabin Mawji
Committee Member
Princess Margaret Cancer Centre
Merrylee McGuffin
Committee Member
Odette Cancer Centre
Ewa Szumacher
Committee Member
Department of Radiation Oncology, University of Toronto / Continuous Education and Professional Development UTDRO
STUDENT COMMITTEE MEMBERS 2024
Tanvir Ahmed
Student Committee Member
The Michener Institute of Education at UHN
Kale McLagan
Student Committee Member
The Michener Institute of Education at UHN
Claire-Marie Peck
Student Committee Member
The Michener Institute of Education at UHN
Amy Yiping Xu
Student Committee Member
The Michener Institute of Education at UHN