Shifana Constantine
Charting a Radiant Path in Medical Radiation Sciences
Inspired to establish a rewarding and impactful career in healthcare, recent MRS graduate, and now Nuclear Medicine Technologist, Shifana Constantine has charted a path of academic excellence and community involvement to professional success as a Medical Radiation Technologist.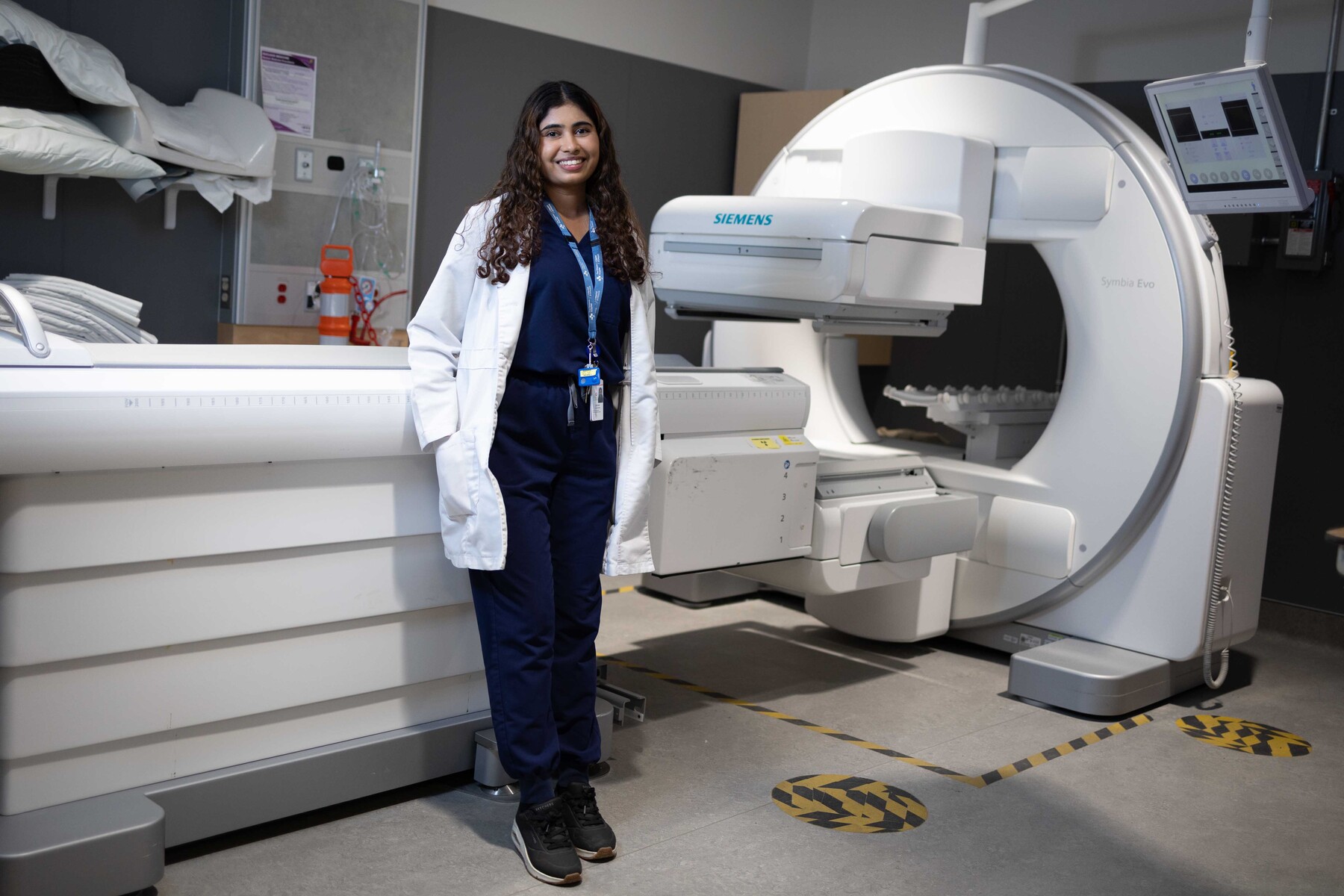 Shifana found herself drawn to the MRS program, and Nuclear Medicine & Molecular Imaging Technology (NMMIT) stream in particular, because of its unique and tailored approach to the profession focusing on delivering knowledge and also on equipping students with the essential tools to become competent, skilled and compassionate technologists. "I was initially attracted to the MRS program because of the opportunity to work with high-tech machines and to be a part of the new and exciting advancements being made in the field of diagnostic imaging and therapies," Shifana shares. This enthusiasm for embracing cutting-edge technology and her passion for making a difference in healthcare have been key in her success in the program and in her role as a Nuclear Medicine Technologist.
Shifana's journey through the MRS program has also been enriched by unique experiences, such as the tour of the micro-PET lab, where she was exposed to groundbreaking animal research contributing to advancements in diagnostic imaging and therapies. She also served as a First-Year Representative when she joined the Medical Radiation Sciences Society (MRSS) in her first year. This role allowed her to forge meaningful relationships with her peers, which was something that wasn't so easy considering that it happened during the midst of the COVID-19 pandemic. The value Shifana derived from this experience motivated her to assume the role of MRSS President the following year. As the MRSS President, Shifana provided resources, organized educational and social events, and worked tirelessly to build a supportive and connected MRS community.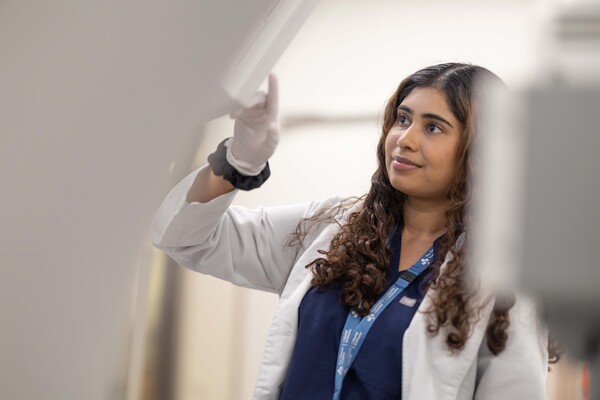 Photo Credit: Fangliang Xu
While in this role, one of the major initiatives that Shifana was involved in was the ATOMS program, which supports first-year students in their transition into the MRS program. As a first-year participant herself, Shifana experienced the benefits firsthand as she was connected to peers, had the opportunity to participate in MRSS events, felt more confident going into exams, and overall gained a strong sense of belonging to a community. One of the MRS-related events, in particular, that stood out to Shifana was the Career Talk during MRT week, at which guest speakers provided insights into the daily life of a Medical Radiation Technologist (MRT) and the future developments in the field. This event helped Shifana formulate a clearer vision of her future in healthcare. These experiences have fueled Shifana's passion and drive for academic excellence, for which she was recognized with the Silver Medal for Highest Academic Standing at graduation.  
When Shifana transitioned from an MRS student to a Nuclear Medicine Technologist, it was seamless, thanks to her increasing independence and confidence gained during clinical placements. In her current role, she appreciates the opportunity to rotate through different departments, keeping her skills sharp and her work interesting. As an MRT at The Ottawa Hospital, Shifana relishes the opportunity to continue learning throughout her career, a feature that she finds particularly attractive in her profession. Additionally, she takes pride in providing high-quality care to those in vulnerable situations, underscoring her dedication to patient well-being.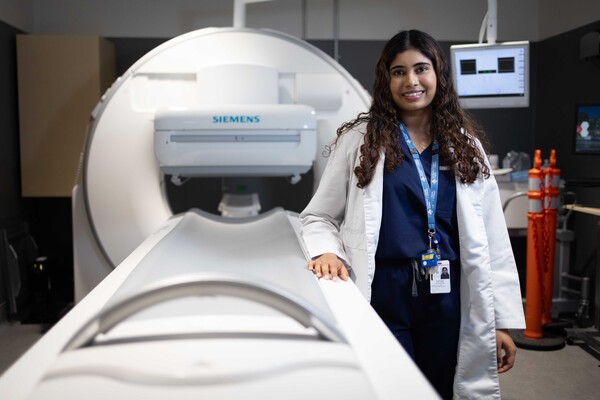 Photo Credit: Fangliang Xu
One of the most profound aspects of Shifana's career has been her meaningful interactions with patients. She emphasizes the privilege of being a part of someone's healthcare journey and the deep connections she has formed with those she has cared for. As Shifana continues this journey in her career, she reflects on the most rewarding aspect of it so far: "The most rewarding aspect of my career has been the number of thank-you's I get every day! I truly feel I've chosen the right path at the end of every shift." It's evident that Shifana's commitment to her patients and the fulfillment she derives from helping others are the driving forces behind her success.
When asked about her advice for aspiring MRS students or those considering a career in the MRT profession, Shifana offers valuable insights: "The MRS program prepares you well for your career as an MRT and provides you with a lot of support with your learning. Being organized, putting in effort, and collaborating well with others will help you be successful in this program! This profession is extremely rewarding and takes a lot of heart and compassion." Her tips for success include dedicating study time, utilizing available supports, and seeking help when needed.
Looking ahead, Shifana plans to delve deeper into PET research studies, drawn by the prospect of being part of emerging advances in the field. Her dedication to staying at the forefront of her profession and making a meaningful impact in healthcare continues to shine brightly.
As Shifana continues to make strides in her career, we look forward to celebrating the remarkable contributions she will make to the ever-evolving landscape of healthcare.
---
---
Special Thanks to Ines Lonz and Fangliang Xu and everyone at The Ottawa Hospital for generously assisting with this project.