Radiation Therapy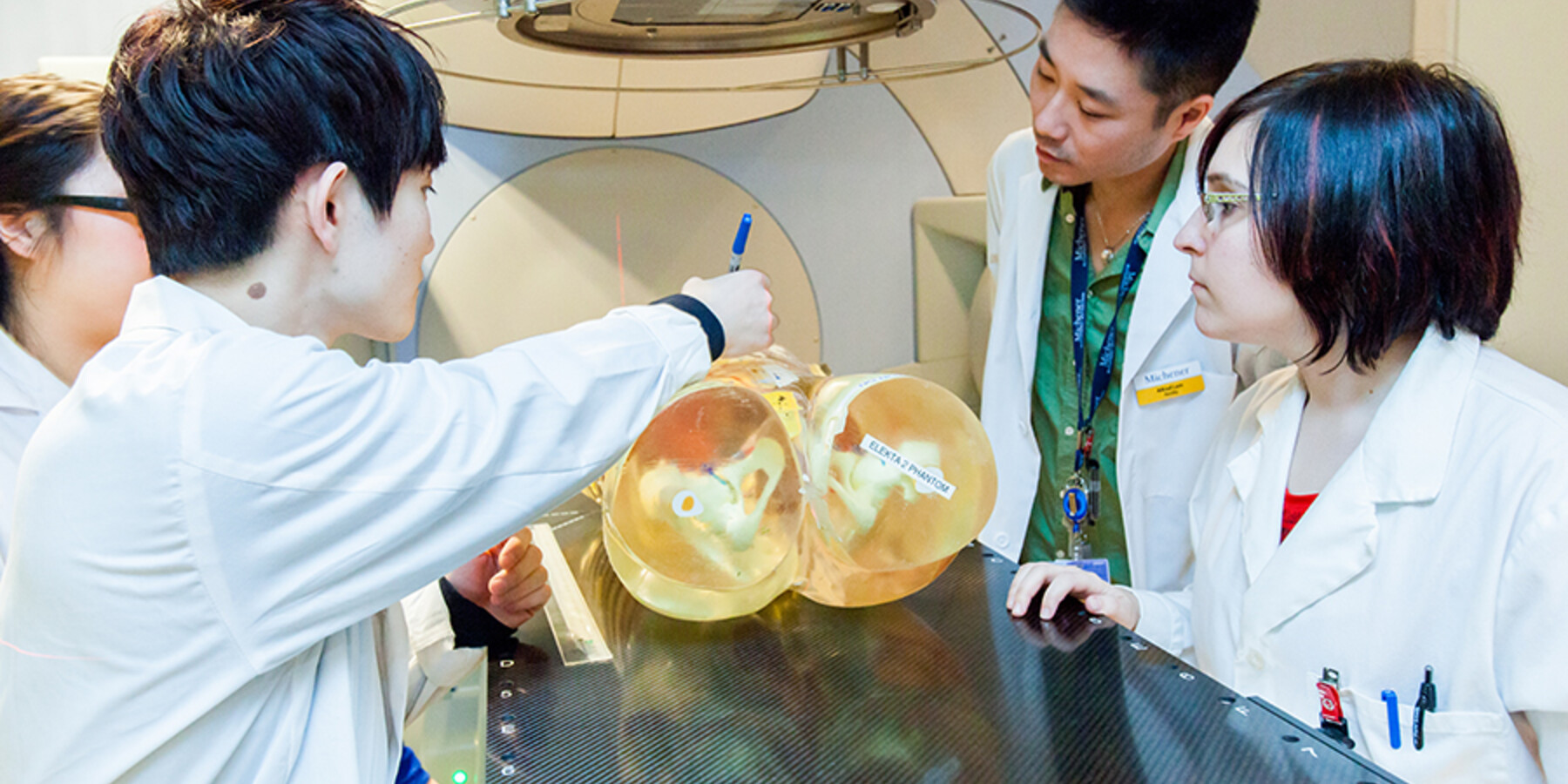 Radiation therapy is the treatment of cancer and other diseases using radiation. In high doses, radiation kills cells or keeps them from growing and dividing. Because cancer cells grow and divide more rapidly than most of the normal cells around them, radiation therapy can successfully treat many kinds of cancer.
Radiation Therapy can be delivered in different ways. External beam radiotherapy uses machines to focus radiation on a cancer site. Depending on the radiation beam energy, it can be used to destroy cancer cells both on the surface and deeper in the body. The higher the energy of the beam, the deeper the radiation can penetrate into the target tissue.
Internal radiotherapy, or brachytherapy, places radioactive implants directly in a tumour or body cavity. In this treatment, the radiation dose is concentrated in a small very area.
What does a Radiation Therapist do?
Working closely with doctors, medical physicists, patients and other members of the health care team, Radiation Therapists navigate highly technical equipment while delivering empathetic and patient-centered care. Radiation Therapists use advanced computer systems and radiation therapy equipment to design and implement treatment plans and deliver radiation treatment, including:
Planning all treatment details, including calculating the radiation dose and simulating its distribution

Positioning the patient and operating the radiation therapy equipment

Constructing and fitting accessory devices that shape, modify and direct the radiation to destroy cancerous tissue

Therapists also play an important role in counseling patients on possible side effects from treatments and provide advice on how best to minimize these effects. Because radiation treatments often extend over several weeks, a special supportive relationship often develops between the therapist, the patient and the patient's family.
Is Radiation Therapy a good choice for you?
Radiation Therapists are detail-oriented and enjoy applying their knowledge of biology, mathematics and physics, since their work requires precision and the safe operation of sophisticated equipment. In addition to employing technical expertise in computerized systems used to for the simulation and planning of treatment details, Radiation Therapists provide the patient and their family with in-depth and continuous care, support, and counseling throughout the treatment process. Although future career opportunities may take you into other work environments, Radiation Therapists are typically employed in Cancer Centres and work with their patients during scheduled appointments over weeks or several months.
Future career opportunities as a Radiation Therapist include research activities, advanced roles such as the clinical specialist radiation therapist (CSRT), management, education, sales/marketing, other specialties such as magnetic resonance imaging (MRI) and computed tomography (CT), higher education at a master's level, and working abroad.
Graduates of the Radiation Therapy stream of the MRS program will earn a BSc in Medical Radiation Sciences from the University of Toronto and an Advanced Diploma in Health Sciences (Radiation Therapy) from The Michener Institute. MRS graduates are eligible to write the national certification exam offered by the Canadian Association of Medical Radiation Technologists (CAMRT) and may pursue advanced studies at U of T or Michener, such as:
Magnetic Resonance Imaging (MRI)
Master of Applied Science (Institute of Medical Sciences)
Master of Health Administration
---
MRS Clinical Placements - Radiation Therapy
Radiation Therapy students gain experience through non-paid clinical placements at one or more clinical sites across Ontario and in New Brunswick, Newfoundland, Nova Scotia, and Saskatchewan. Radiation Therapy students graduate with 42 weeks of clinical experience:
8 weeks at the end of Year 1
4 weeks at the end of Year 2
30 weeks in Year 3
Please note that placement at your first-choice site is not guaranteed and that clinical site locations are subject to change.
Out-of-Province Opportunities*
Radiation Therapy applicants who wish to explore their career outside of Ontario may be eligible for the following MRS Out-of-Province Opportunities:
*Please note that your eligibility for these Out-of-Province opportunities are subject to terms and conditions set by the sponsoring agency.
MRS Course List* - Radiation Therapy
NOTE: Ontario's response to the COVID-19 pandemic continues to evolve. Changes will likely occur as the province and its municipalities adjust to new data about the virus. In these circumstances, please be advised that the manner of delivery of courses, co-curricular opportunities, programs, and services is subject to change, in accordance with university policies. The University thanks its students, faculty, and staff for their flexibility during these challenging times as we work together to maintain the standards of excellence that are the hallmark of the University.
*Subject to Change