Radiological Technology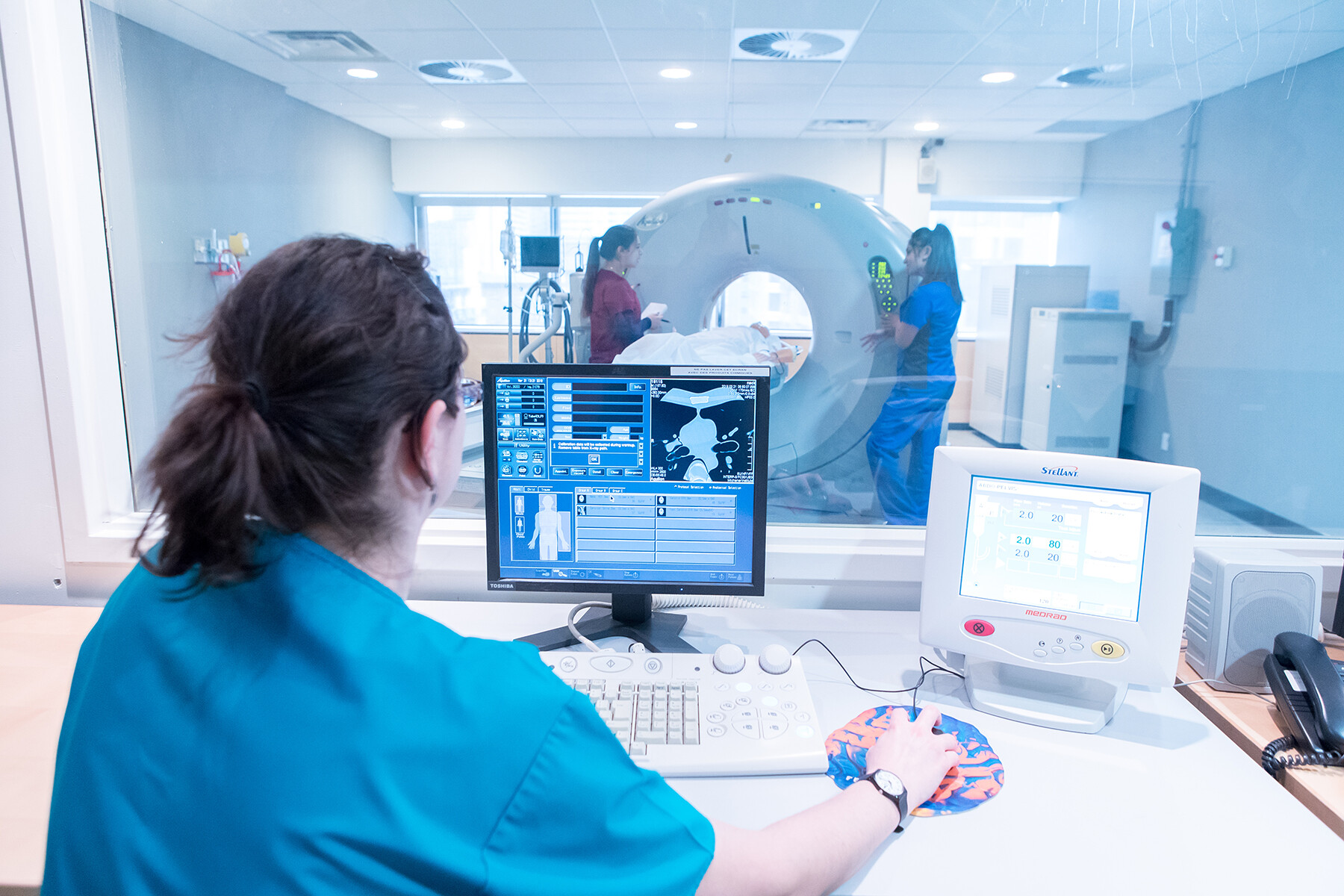 Radiological technology is the production of medical images, commonly called X-rays, of internal organs and structures. They are produced by passing a small, highly controlled amount of radiation through the human body, and capturing the resulting image on an image recording device.
To enhance certain organs and structures that otherwise are not visualized on medical X-ray image, contrast media may be used.
The field of radiological technology includes many different subspecialties. Examples include the following:
General Radiology is used to detect bone fractures and pathological processes, locate foreign objects in the body, and demonstrate the relationship between bone and soft tissue.
Fluoroscopy produces real-time X-ray images. Fluoroscopy is used in conjunction with contrast media to enable visualization of internal structures such as the gastrointestinal tract, blood vessels and various organs during diagnostic and therapeutic procedures. Fluoroscopy is also performed in the operating room during surgery providing the surgeon visual guidance for various surgical procedures.
Computerized Tomography (CT) produces cross-sectional and 3-dimensional images of various structures in the body
Angiography uses contrast agents to examine the heart and blood vessels
Mammography produces radiographic images of the breast to detect cancer in its earliest stages
Electronic image management (PACS)
What does a Radiological Technologist do?
Radiological Technologists are vital members of the interprofessional health care team devoted to patient care. Technologists have the technical expertise to operate sophisticated instruments, and also have the humanistic skills necessary to communicate with patients, problem-solve, and work well with other members of the health care team. Radiological Technologists will:
Play an integral role in the detection of injury and disease; they are the medical personnel who perform diagnostic imaging examinations, including mammography and computerized tomography.
They are responsible for accurately positioning patients and ensuring that a quality diagnostic image is produced.
Use cutting-edge medical imaging technology and advanced computer systems to perform complex anatomical scans, many in real-time, to produce and enhance radiographic images.
Interventional radiography is use for the detection, diagnosis and treatment of injury and disease.
Is Radiological Technology a good choice for you?
Radiological Technologists enjoy a variety of hospital settings and roles including the fast-paced emergency and operating room environments, as well as private clinics, research institutes and public health institutions. As a Radiological Technologist, you are an integral member of a patient's diagnostic pathway, where you may specialize in a particular area of diagnostic imaging such as:
Mammography (breast imaging)
Computed tomography (CT)
Diagnostic visceral and peripheral angiography with interventional radiology
Electronic image management (PACS)
Neuroradiology or trauma radiography
Your future career opportunities could include computed tomography (CT), management, education and sales/marketing, magnetic resonance imaging (MRI), research activities, medical equipment sales, government policy, as well as pursuing higher education opportunities at a master's level, and working abroad.
Graduates of the Radiological Technology stream of the MRS program will earn a BSc in Medical Radiation Sciences from the University of Toronto and an Advanced Diploma in Health Sciences (Radiological Technology) from The Michener Institute. MRS graduates are eligible to write the national certification exam offered by the Canadian Association of Medical Radiation Technologists (CAMRT) and may pursue advanced studies at U of T or Michener, such as:
Magnetic Resonance Imaging (MRI)
Master of Applied Science (Institute of Medical Sciences)
Master of Health Administration
---
MRS Clinical Placements - Radiological Technology
Radiological Technology students gain experience through non-paid clinical placements at one or more sites primarily within the Greater Toronto Area including: Ajax/Pickering, Barrie, Markham, Oshawa, Richmond Hill, and Toronto*. Radiological Technology students graduate with 42 weeks of clinical experience:
8 weeks at the end of Year 1
4 weeks at the end of Year 2
30 weeks in Year
* Please note that placement at your first-choice site is not guaranteed and that clinical site locations are subject to change.
MRS Course List*- Radiological Technology
NOTE: Ontario's response to the COVID-19 pandemic continues to evolve. Changes will likely occur as the province and its municipalities adjust to new data about the virus. In these circumstances, please be advised that the manner of delivery of courses, co-curricular opportunities, programs, and services is subject to change, in accordance with university policies. The University thanks its students, faculty, and staff for their flexibility during these challenging times as we work together to maintain the standards of excellence that are the hallmark of the University.
*Subject to Change