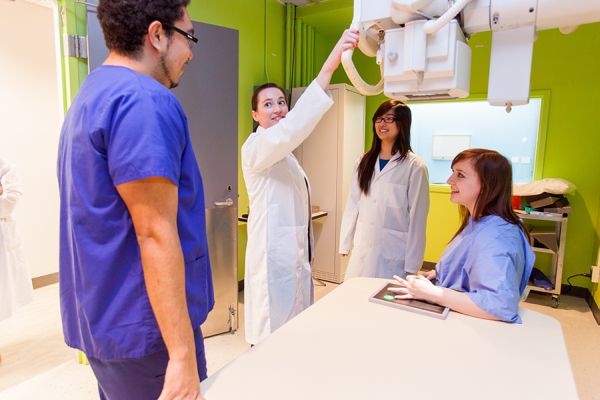 Radiological technology is the production of medical images commonly called X-rays, of internal organs and structures. They are produced by passing a small, highly controlled amount of radiation through the human body, and capturing the resulting image on an image recording device. When X-rays penetrate the body, they are absorbed in varying amounts by different parts of the anatomy. Bones, for example, will absorb much of the radiation and, therefore, appear white or light gray on the image, whereas soft tissue absorbs little radiation and appears dark.
Contrast media are sometimes used to enhance certain organs and structures that otherwise are not visualized on medical X-ray images.
The field of radiological technology also includes therapeutic procedures, often referred to as interventional radiology. Interventional Radiology is used in the detection, diagnosis and treatment of injury and disease.
Some Examples of Radiography:
General Radiology is used to detect bone fractures and pathological processes, locate foreign objects in the body, and demonstrate the relationship between bone and soft tissue.

Fluoroscopy produces real-time X-ray images. Fluoroscopy is used in conjunction with contrast media to enable visualization of internal structures such as the gastrointestinal tract, blood vessels and various organs during diagnostic and therapeutic procedures. Fluoroscopy is also performed in the operating room during surgery providing the surgeon visual guidance for various surgical procedures.

Computerized Tomography (CT) produces cross-sectional and 3-dimensional images of various structures in the body

Angiography uses contrast agents to examine the heart and blood vessels

Mammography produces radiographic images of the breast to detect cancer in its earliest stages

Electronic image management (PACS)
What does a Radiological Technologist do?
Play an integral role in the detection of injury and disease; they are the medical personnel who perform diagnostic imaging examinations, including mammography and computerized tomography.
They are responsible for accurately positioning patients and ensuring that a quality diagnostic image is produced.
Work closely with patients, doctors and other health professionals as part of the interdisciplinary health care team.
Use cutting-edge medical imaging technology and advanced computer systems to perform complex anatomical scans, many in real-time, to produce and enhance radiographic images.
Why become a Radiological Technologist?
Radiological technology offers many areas of specialization
Mammography (breast imaging)
Computed tomography (CT)
Diagnostic visceral and peripheral angiography with interventional radiology
Electronic image management (PACS)
Neuroradiology or trauma radiography
Radiological Technologists are vital members of the interprofessional health care team devoted to patient care. Technologists must have the technical expertise to operate sophisticated instruments, but must also have the humanistic skills necessary to communicate with patients, problem-solve, and work well with other members of the health care team.
Graduates in Radiological Technology  earn a BSc in Medical Radiation Sciences from the University of Toronto and an Advanced Diploma in Radiological Technology from The Michener Institute and may pursue advanced studies at U of T or Michener, including:
Magnetic Resonance Imaging (MRI)
PACS Administrator / Imaging Informatics
Master of Applied Science (Institute of Medical Sciences)
Master of Health Administration
Course List  (Fall 2019 Intake)
YEAR 1 FALL – SEMESTER 1
Anatomy for Medical Radiation Sciences (ANAT110/MRS159H1)
This course is an introductory course designed to serve as the foundation in Human Anatomy for students in the Medical Radiation Sciences program. The course will introduce learners to the components of the human body, relationships of the surface anatomy and the body's internal components and discuss the basic function of these components. The course will encompass a regional approach to study the human body with correlation to its clinical application. Anatomy for MRS will serve to prepare learners for ANRD121/MRS163H1 (Relational Anatomy).
Human Osteology (ANRA310/MRS102H1)
A comprehensive study of human osteology with the emphasis on practical application to radiographs of the normal axial and appendicular skeleton.
Comparative Medical Imaging (IGRD110/MRS281H)
This course is designed to introduce the learner to the complexities of diagnostic and therapeutic imaging in the healthcare setting. Learners will develop an understanding of what it means to be a medical radiation technologist, a healthcare professional, and interprofessional collaboration. As well, learners will be exposed through a series of seminars delivered by healthcare professionals from the practice setting, to a variety of imaging modalities used in the diagnosis and treatment of patients. Modalities such as X-ray, Computed Tomography (CT), Magnetic Resonance Imaging (MRI), Ultrasound (US), Positron Emission Tomography (PET), and Image Guidance for Radiation Therapy will be explored. Additional topics relating to the imaging modalities will be covered including Informatics, Artificial Intelligence/Machine Learning and Interventional Radiology.
Patient Care in Medical Radiation Sciences I (PMRS111/MRS227H1)
Examining a variety of fundamental patient care topics using a patient-centred lens, learners will be introduced to the professional, ethical, and legal standards which will be reinforced throughout the Medical Radiation Sciences (MRS) curriculum. Patient care skills will be enhanced through the study of communication, medical terminology, infection control, clinical assessment techniques and relevant pharmacology, including contrast media. This course will also provide the opportunity to develop communication and care-delivery strategies for diverse patient populations. Reflective practice will be introduced and developed throughout the course as learners work towards becoming reflective practitioners.
Diagnostic Imaging Instrumentation I (INRA110/MRS114H1)
The purpose of this course is to introduce learners to the principles of medical image recording and equipment. In this course, learners will gain introductory knowledge on how radiological images are produced, manipulated, and critiqued in terms of diagnostic quality. Learners will examine how information flows from the patient to the observer in four distinct stages.
Radiographic Physics and Radiobiology (PHRA110/MRS115H1)
The Radiographic Physics portion of this course describes the properties and components of the electromagnetic spectrum. Medical X-ray production and equipment will be discussed, along with the factors that determine both the quality and quantity of the X-ray beam. The Radiobiology portion of this course will be delivered on line and jointly with the students of the Nuclear Medicine and Molecular Imaging Technology program. This course examines the biological response to radiation in depth, ranging from the cellular level to whole body response
YEAR 1 WINTER – SEMESTER 2
Relational Anatomy (ANRD121/MRS164H1)
This Relational Anatomy course requires learners to apply their knowledge of gross anatomy to explore the cross-sectional and relational anatomy of the head, central nervous system, neck, spine, thorax, abdomen, pelvis (male/female) and the upper and lower extremities. An emphasis is placed on the learner's ability to identify and justify the relative positions of the organs, the vascular system, the lymphatic system as well as muscular and skeletal structures in each of the aforementioned anatomic regions.
Patient Care in Medical Radiation Sciences II (PMRS121/MRS228H1)
Building upon the knowledge acquired in PMRS111, learners will apply the concepts of professional practice, patient management, and health and safety, in both the didactic and laboratory environments. Learners will employ principles of infection control, patient assessment, patient transfer, contrast media administration and emergency response procedures. Learners will also be introduced to various venipuncture techniques. These practical skillsets will be developed as learners simultaneously integrate the concepts of patient-centred communication and professionalism introduced in PMRS111.
Physiology (PSRD120/MRS162H1)
This course will introduce students to the function of the organ systems that comprise the human body. The course will follow a systematic structure covering all of the principal functional systems within the body, examples include the cardiovascular and respiratory systems. Learners are expected to be familiar with the anatomical structure of these systems.
Diagnostic Imaging Instrumentation II (INRA120/MRS116H1)
This course is a continuation of the concepts and practice learned in Diagnostic Instrumentation I. Building upon previous knowledge, the learner will continue to gain insight into the principles of medical image recording, and will further explore the modalities of CR and DR, in greater depth. The link between Digital Imaging and Picture Archiving and Communication System (PACS) will be emphasized, and the relationship between Hospital Information System (HIS), Radiology Information System (RIS) and PACS will be explored.
Radiographic Methodology I (RARA311/MRS117H1)
Radiographic Methodology I focus on aiding learners to achieve the skills necessary to safely and correctly complete radiographic studies of the appendicular skeleton, chest and abdomen. The fundamental principles of radiographic image production, the ability to analyze radiographic images for correct positioning and technical factor selection, and the parameters that define optimal diagnostic quality of a radiographic image will be introduced in this course.
YEAR 1 SUMMER – SEMESTER 3
Introduction to Clinical Radiography (CLRA130/MRS118H1)
In this course the learner will gain an understanding of the role and responsibility of the MRT in the clinical environment. While in the clinical setting, the learner will have an opportunity to practice general radiography in their assigned clinical site. The learner will gain an understanding of the patient experience by applying the patient care, communication, and methodology skills learned in the didactic environment to the practice of Radiological Technology. They will familiarize themselves with the mechanical functioning of the imaging equipment and experience the team dynamics of health care provision.
Selective I
The specialized electives ("selectives") are courses developed with the purpose of providing graduates of the Medical Radiation Sciences (MRS) Program with knowledge and expertise in specialized fields of practice. Selectives are designed to give students some freedom in constructing a curriculum that responds to their own particular interests related to their chosen profession and/or academic endeavors after graduating from the program.
Examples of selective courses that are available to MRS students are: Physics of MRI, MRI Anatomy and Pathology, Informatics, Mammography, Patient Education, Supportive and Palliative Care, and many more.
YEAR 2 FALL – SEMESTER 4
Introduction to Research Methods (RMIP240/MRS266H1)
Integrated C.T. Imaging Theory and Practice I (CTRD240/MRS265H1)
Diagnostic Imaging and Instrumentation III (INRA251/MRS205H1)
Experiential Learning in IPEC (EMRS240/MRS260H1)
Radiographic Procedures (RARA241/MRS253H1)
Radiographic Image Analysis (RARA241/MRS253H1)
YEAR 2 WINTER – SEMESTER 5
Clinical Behavioural Science (HBRD241/MRS269H1)
Integrated C.T. Imaging and Theory Practice II (CTRD250/MRS206H1)
Radiographic Methodology II (RARA250/MRS207H1)
Medical Imaging Pathology (PGRA240/MRS119H1)
Patient Care for Medical Imaging (PCRA251/MRS212H1)
Experiential Learning in IPEC (EMRS240/MRS260H1)
YEAR 2 SUMMER – SEMESTER 6
Simulated Clinical Practice: Radiological Technology (CLRA261/MRS209H1)
Transition to Clinical Radiography (TCRA266/MRS231H1)
Health Improvement Initiatives (HIRT130/MRS232H1)
Selective II
YEAR 3 FALL – SEMESTER 7
Clinical Radiography II (CLRA371/MRS210H1)
Research Methods (RMRD370/MRS278Y1) – OR – Research in Practice (RPRD370/MRS397H1)
YEAR 3 WINTER – SEMESTER 8
Clinical Radiography III (CLRA380/MRS211H1)
Research Methods – continued (RMRD370/MRS278Y1) – OR – Selective III