Congratulations to the MRS Class of 2022!
Alumni, Faculty & Staff, Students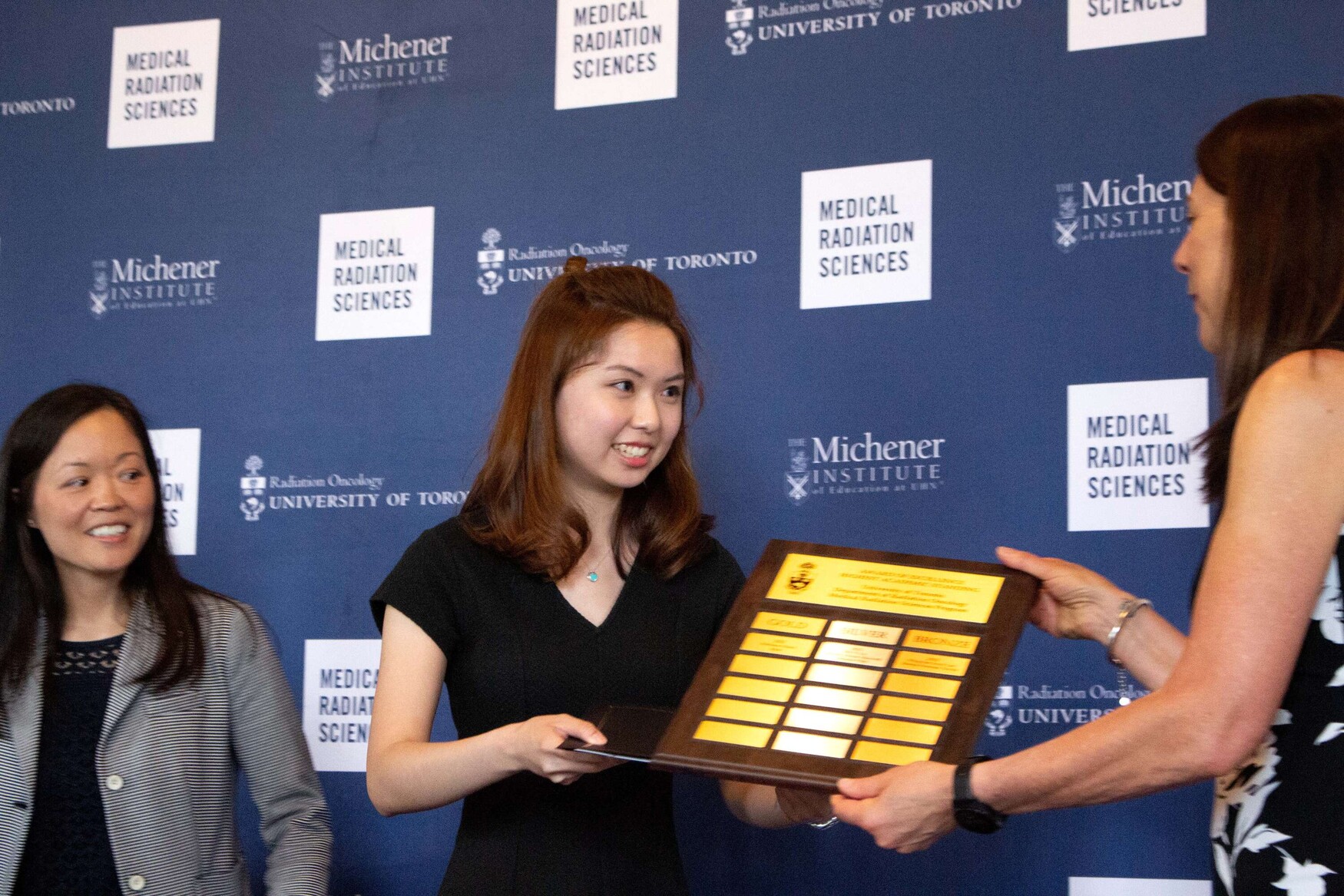 On Thursday, June 2nd, the joint Medical Radiation Sciences (MRS) Program between the University of Toronto and the The Michener Institute of Education at UHN celebrated its 20th graduating class in an in-person MRS Pre-Convocation Reception and Awards Ceremony at Hart House. We were honoured to host and be a part of this important milestone, that was planned in addition to the University of Toronto's Spring Convocation 2022 Ceremony, which was held later that evening at the Convocation Hall.
Over 100 guests joined our department's first in-person celebration this year to support our 92 graduands across three areas of study: 15 from Nuclear Medicine and Molecular Imaging Technology, 36 from Radiological Technology, and 41 from Radiation Therapy. Full list is below.
Words of wisdom and congratulations were shared by Kieng Tan (Associate Director, Medical Radiation Sciences Program), Dr. Lynn Wilson (Vice Dean, Clinical and Faculty Affairs, Temerty Faculty of Medicine), Fiona Cherryman (Head of Academic Affairs and Operations, Michener Institute of Education at UHN), and Dr. Fei-Fei Liu(Professor and Chair, Department of Radiation Oncology, University of Toronto).
We are immensely proud of each of our graduands and recognize the effort, resilience and hard work that it took to excel in the MRS Program, especially while navigating the significant challenges and changes caused by the pandemic.
Graduands, welcome to the University of Toronto's Radiation Medicine Alumni Community! We wish you great success on your journey ahead!
Congratulations MRS Class of 2022!
MRS Graduating Undergraduate Students
Nuclear Medicine and Molecular Imaging Technology Program Graduands
Aniza Abdi Abdulle
Magdalena Arent
Mezoon Arif
Jiaying Cai
Safaa Chapti
Christopher Douglas Chow
Jonathan Cramman
Yu Qian Dai
Adam Michael Dutra
Cecilia Gregory
Pouria Hosseini
Tiffany Ip
Sinthuja Jeyadevan
Ming-Jia Kang
Denis Khan
Sarah Rose Kleemola
Miraj Lad
Wing See Joyce Lee
Jisue Lee
Kevin Jordan Low
Shi Yi Lu
Vicky Lu
Adriana Hosin Mok
Rachael Posthumus
Serena Rose Rizzi
Yoojin Ro
Roua Sabagh
Alicia Indira Singh
Iris Sit
Christina Tran
Kim Nhu Tran
Anh Leandra Truong
Connie Tsui
Tana Wei
Sharon Zavalunov
Iris Hui Bin Zhong
Radiological Technology Program Graduands
Aniza Abdi Abdulle
Magdalena Arent
Mezoon Arif
Jiaying Cai
Safaa Chapti
Christopher Douglas Chow
Jonathan Cramman
Yu Qian Dai
Adam Michael Dutra
Cecilia Gregory
Pouria Hosseini
Tiffany Ip
Sinthuja Jeyadevan
Ming-Jia Kang
Denis Khan
Sarah Rose Kleemola
Miraj Lad
Wing See Joyce Lee
Jisue Lee
Kevin Jordan Low
Shi Yi Lu
Vicky Lu
Adriana Hosin Mok
Rachael Posthumus
Serena Rose Rizzi
Yoojin Ro
Roua Sabagh
Alicia Indira Singh
Iris Sit
Christina Tran
Kim Nhu Tran
Anh Leandra Truong
Connie Tsui
Tana Wei
Sharon Zavalunov
Iris Hui Bin Zhong
Radiation Therapy Program Graduates
Mitali Janakbhai Adhvaryu
Humayra Wardah Ahsan
Lindsay Rosemarie Arathoon
Jugdip Kaur Aulakh
Stephan Basic
Sabrina Choi Kiu Chan
Daniella Theresa Chee
Benjamin Chung
Angela Deng
Mark Di Giacomo
Ariane Nicole Harpe
Garth Tavares Henry
Yu Heng Hou
Jiawei Hu
Hamid Issa Hissein
Tasfia Jasimuddin
Jill Marie Johnson
Erin Rachael Kainu
Keerthana Kaneshalingam
Zahara Khadija Khan
Caitlyn Marie Lazar
Matthew Magliozzi
Rahat Malik
Rachelle Yolande Martell
Attiyya Mohsin
Thi Bich Thuy Nguyen
Kristianne Shannon Nichol
Riya Vrajesh Patel
Gagandeep Sanghera
Aushin Sanjay
Mauli Rakesh Shah
Chao Shang
Carissa Lovina Shank
Shadman Shahab Siddique
Asvena Sriharan
Maariyah Syed
Adona Umeri
Anoosha Wahidi
Jane Wong
Victoria Rose Patricia Wourms
Alyssa Loran Zvonarich
Award Recipients
Highest Academic Standing
Second Highest Academic Standing
Shi Yi Lu
Sidney Nicole Maxwell
Melanie Pitre
Third Highest Academic Standing
Wing See Joyce Lee
Reema Norman Xavier
Outstanding Achievement in Research Methods
Honourable Mention in Research Methods
Outstanding Achievement in Research In Practice Radiological Technology
Honourable Mention in Research in Practice Radiological Technology
Outstanding Achievement in Research In Practice Nuclear Medicine & Molecular Imaging Technology
Honourable Mention in Research In Practice Nuclear Medicine & Molecular Imaging Technology
Volunteer Award Outstanding Volunteer Achievements
Matthew Magliozzi
Reema Norman Xavier
Attiya Mohsin
Rachel Posthumus
Caitlyn Lazar
Jill Marie Johnson
Event Photographs