RTi3 2022 Inspire Keynote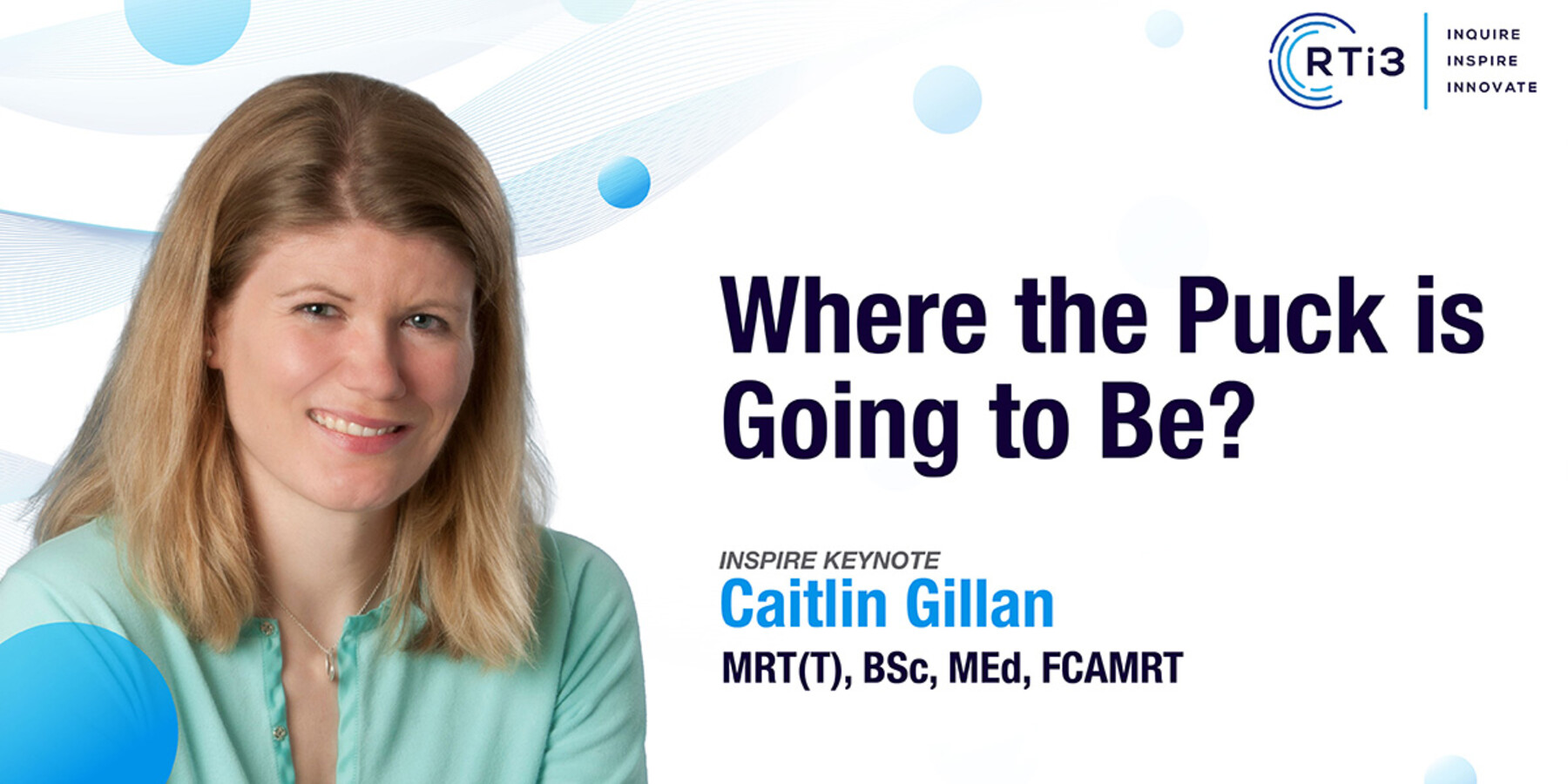 Details
Date: Saturday, May 28, 2022
Time: 2:30 PM - 3:20 PM EDT
Event: RTi3 Conference
Registration: Get your tickets here
Title: Where the Puck is Going to Be
Inspire Keynote: Caitlin Gillan
Description 
When we focus only on the environment in which we find ourselves right now, by the time we are prepared for it and comfortable in it, things have evolved. As members of a profession, how do we apply Wayne Gretzky's mantra that we need to "skate where the puck is going to be, not where it has been" to radiation therapy practice?

Pulling from her research in how artificial intelligence will impact radiation therapy care, as well as other reflections from her clinical and academic career, Caitlin will inspire the RTi3 community to collectively equip itself to appreciate and position itself for the future of radiation therapy practice.
Learning Objectives
To recognize how artificial intelligence can be leveraged with strong engagement from radiation therapy as a profession 
To build appreciation for the tools that can equip radiation therapists to be at the forefront of practice change 
To inspire radiation therapists to identify and prepare for what is on the horizon in their practice contexts, to become the thought leaders needed in our profession
ABOUT CAITLIN

Caitlin is the Manager of Education and Practice for Toronto's Joint Department of Medical Imaging between the University Health Network (UHN), Sinai Health System, and Women's College Hospital, as well as for UHN's Laboratory Medicine Program. She is a radiation therapist by training, having worked for 12 years in the Radiation Medicine Program at the Princess Margaret Cancer Centre. She is an Assistant Professor in the U of T Department of Radiation Oncology, with research interests in interprofessional education and practice, especially as they relate to the integration of novel technologies and practice innovations.

Caitlin is currently serving a term on the Board of Directors for the Ontario Association of Medical Radiation Sciences, and also sits on a number of local and national committees relating to medical radiation technology practice. She is the Instructional Lead for the new Digital Health and Data Analytics Program at the Michener Institute of Education at UHN. She is working now to complete her doctoral studies through UofT's Institute of Health Policy, Management, and Evaluation, focusing on how healthcare professions – including imaging technologists - are considering the impact of artificial intelligence on their practice.
The RTi3 2022 Supplemental is now available in the Journal of Medical Radiation Sciences (JMIRS).