RTi3 2022 Innovate Keynote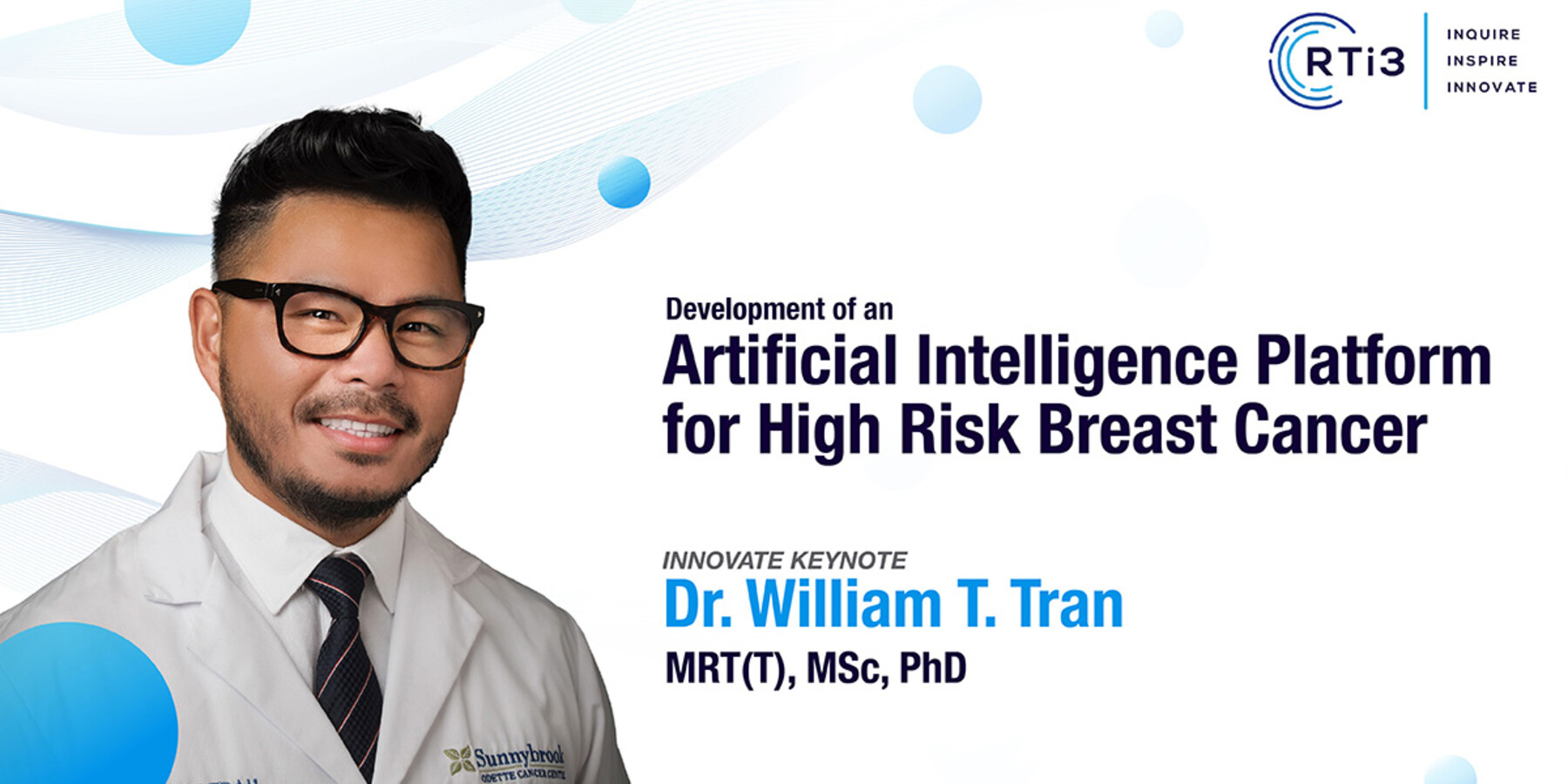 Details
Date: Saturday, May 28, 2022
Time: 10:10 PM - 11:00 AM EDT
Event: RTi3 Conference
Title: Development of an Artificial Intelligence Platform for High Risk Breast Cancer
Innovation Keynote: Dr. William T. Tran
Description 
The management of high-risk breast cancer has undergone significant development in the past decade. Advances in new drugs, treatment strategies and the introduction of state-of-the-art imaging modalities have afforded new opportunities to tailor treatments. Imaging biomarkers represent an area of research to enhance diagnostic and theranostic applications in oncology.

Current studies are focused on quantitating tumor functional and biological features. Parallel studies using artificial intelligence (AI) are being developed to enhance imaging biomarker applications. Investigations are focused on identifying signatures associated with treatment response, metastatic potential and characterization of tumor biology (i.e., tumor phenotyping).

Overall, there is a growing interest in developing AI-based methods for personalized oncology in breast cancer. In this session, imaging biomarker studies and artificial intelligence frameworks are presented within the context of breast cancer diagnosis and treatment. 
Learning Objectives
Discuss potential clinical benefits of patient reported outcomes (PRO) 
Increase awareness of pan-Canadian PRO and patient engagement initiatives including CPQR's guidance documents.
Discuss a multi-centre, interdisciplinary initiative aiming to implement an electronic PRO program.
About Dr. Tran
Dr. William Tran is a Clinician Scientist and Assistant Professor of Radiation Oncology at the University of Toronto. His research is focused on diagnostic and theranostic imaging biomarkers in high-risk breast cancer. He completed his radiotherapy training at McGill University Health Centre, and completed his PhD at Sheffield Hallam University, followed by a post-doctoral fellowship at the University of Toronto.

He has obtained more than $3M in funding for his research program, and has published more than 65+ peer-reviewed articles on breast cancer, imaging biomarkers, and artificial intelligence frameworks including machine learning and deep learning in breast oncology.

He is a full scientist at Sunnybrook Research Institute, and holds appointments as Adjunct Professor at Ryerson University in Biomedical Physics, and a Senior Research Fellow at Sheffield Hallam University (United Kingdom).
The RTi3 2022 Supplemental is now available in the Journal of Medical Radiation Sciences (JMIRS).