Congratulations to the Class of 2020 Post-Graduate Trainees!
On June 8, 2020, the University of Toronto's Department of Radiation Oncology (UTDRO) celebrated the accomplishments of our graduating post-graduate trainees of 2020 in a Virtual Post-Grad Graduation Ceremony.
In light of the COVID-19 situation, we had to cancel our in-person celebration and we proceeded with a non-traditional virtual format. This year, almost 100 attendees joined us online and it was a memorable experience as we celebrated with UTDRO faculty members, staff, trainees, friends and family members. And an advantage to the online format was that graduates and family from across the country were able to join.
We had insights and remarks from the Faculty of Medicine's leadership such as Dr. Glen Bandeira, Associate Dean of the Post-Graduate Medical Education and Dr. Fei-Fei Liu, Chair, Department of Radiation Oncology. Our UTDRO Education Leads, Dr. Andrea McNiven, Director of the Physics Residency Program, Dr. Andrea Bezjak, Director of the Radiation Oncology Residency Program, and Dr. Peter Chung, Director of the Fellowship Program, also shared some stories of the graduating class.
To celebrate the graduates themselves (see list below), the Program Directors turned the floor over to each graduating Radiation Oncology Resident, Medical Physics Resident, and Fellows, where we heard directly from the graduate their fondest moments of their time in UTDRO, some of their greatest learnings or insights, and where we will find them next.
We also announced the 10 award winners from this year's Research Day Abstracts. Despite not hosting the annual UTDRO Research Day, the Research Committee and Reviewers, reviewed all the work that has been conducted over the last year and selected those projects that were of exceptional quality and impact to the radiation medicine profession. See award winners below.
Of course, the night would not be complete without recognizing the exceptional training that goes into the successes of our graduates. The trainees awarded three awards to teachers within our programs in recognition of their dedication and support. Congratulations to the three award winners listed below.
Congratulation again to our 2020 Graduates and we welcome you to the University of Toronto's Radiation Oncology Alumni Community!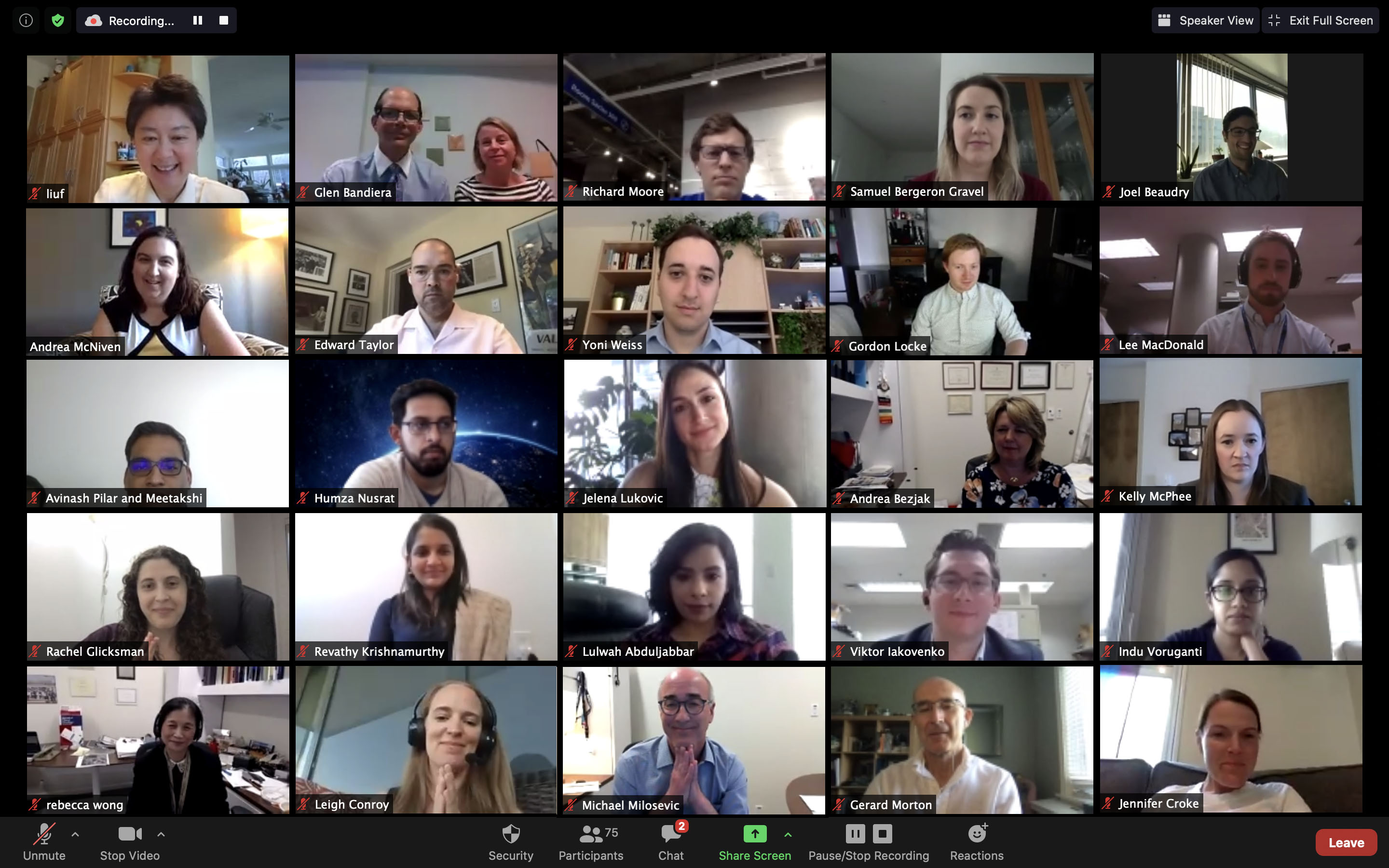 UTDRO Graduating Post-Graduate Trainees
Medical Physics Residency:
Joel Beaudry

Leigh Conroy

Edward Taylor

Roja Zakariaee
Radiation Oncology Residency:
Rachel Glicksman

Aruz Mesci
Radiation Oncology Fellowship:
Lulwah Abduljabbar

Saad Alrashidi

Soha Atallah

Samuel Bergeron Gravel

Piero Bettoli

Astrid Billfalk-Kelly

Matthew Chan

Chin Heng Fong

Hamza Ghatasheh

Shivakumar Gudi

Ezra Hahn

Revathy Krishnamurthy

Jelena Lukovic

Avinash Pilar

Jeevin Shahi

Andre Vos
Trainee Selected Teaching Awards
Residents' Award for Excellence in Clinical Teaching: Dr.

Andrew Bayley

Residents' Award for Excellence in Clinical Teaching by a Fellow: Dr. Samuel Bergeron-Gravel
Physics Residents' Award for Excellence in Physics Teaching: Dr. Alex Karotki
Research Day Awards 2020
R. S. Bush Award - Academic Excellence in Research by a Radiation Oncology Fellow: Dr.

Shivakumar Gudi

 J. R. Cunningham Award - Academic Excellence in Research by a Physics Resident: Dr. Lee MacDonald
Richard P. Hill Award - Academic Excellence in Research by a Graduate Student: Drs. Mary Shi and Michael Sandhu
W. J. Simpson Award - Academic Excellence in Research by a Radiation Oncology Resident: Drs. Jennifer Kwan and Kang Liang Zeng
Chair's Award for Academic Excellence in Research: Dr. Meetakshi Gupta