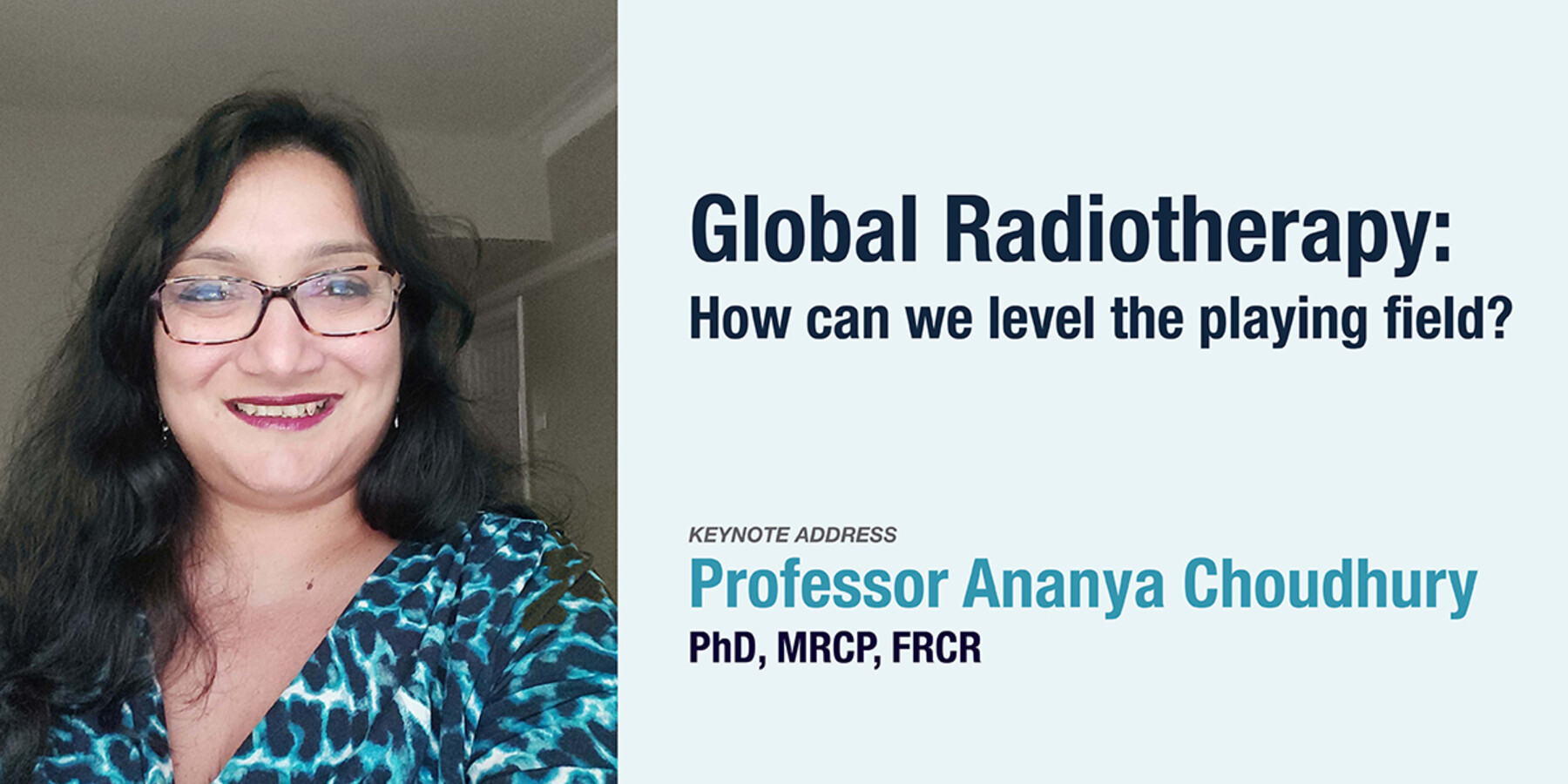 Global Radiotherapy: How can we level the playing field?
Dr. Ananya Choudhury, PhD, MRCP, FRCR
Dr. Choudhury, Chair and honorary consultant in Clinical Oncology at The University of Manchester and The Christie NHS Trust, joins us as our Research Day 2022 Keynote Address. Her talk about levelling the playing field in global radiotherapy is not to be missed!
There has been a revolution in advanced radiation technology which has made its way to the clinic, promising better outcomes and less toxicity. However, resources are limited in all healthcare systems and there is much that we can do within our present constraints to deliver optimal radiation treatment. The past two years have taught us what we can do when the unexpected happens, how to be agile and how we are one global radiotherapy community.
Key Takeaways
All healthcare systems have their limitations
Simple interventions improve radiation outcomes
Lessons from the COVID-19 pandemic
About Dr. Choudhury
Professor Choudhury is Chair and honorary consultant in Clinical Oncology at The University of Manchester and The Christie NHS Trust, UK.
She graduated from Trinity College, Cambridge, and undertook her Clinical Oncology training at the Yorkshire Deanery from 2000-2008. Between 2005 and 2007, she was a Cancer Research UK Clinical Training Research Fellow and she completed her PhD at the University of Leeds and Princess Margaret Hospital in Toronto, Canada. Her experience at the University of Toronto and Princess Margaret paved the way for a career in translational oncology research.
As clinical lead for advanced radiotherapy, including the MRLinac programme, and Group Leader of Translational Radiobiology, she oversees a programme of research in personalized radiotherapy focusing on bladder and prostate cancer.
Professor Choudhury has a lead role in education and training for specialist registrars and clinical fellows with a particular passion for supporting and mentoring colleagues outside the UK. She holds national leadership roles within the Royal College of Radiologists, the National Cancer Research Institute (NCRI), Clinical and Translational Radiotherapy Research Working Group (CTRad), the NCRI Bladder Clinical Studies Group and the National Institute of Health and Care Excellence (NICE). Professor Choudhury is currently the Editor in Chief of Clinical Oncology.
(you will be redirected to Eventbrite registration page)
Learn more about UTDRO Research Day.