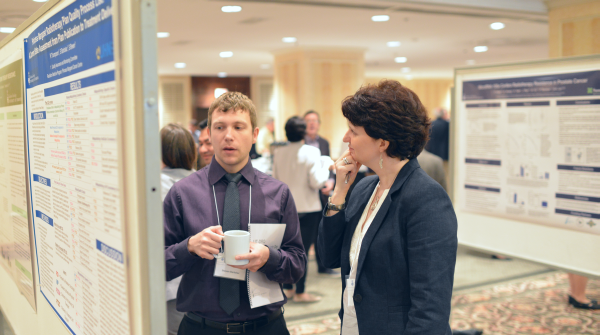 We are excited to showcase and celebrate some of the great research happening across UT DRO through the submitted abstracts, oral presentations, and posters for Research Day.  We encourage all of our trainees to submit their abstracts for an opportunity to present their work.  Faculty members please encourage your team to submit their work and distribute this communication as necessary – any trainee supervised by a UT DRO faculty member is eligible to participate.
Research Day will be held on May 4, 2018 from 12:00 pm to 5:00 pm at the Chestnut Conference Centre.
Register Here:
https://www.eventbrite.ca/e/utdro-research-day-2018-tickets-40183640350
Oral Presentation Guidelines
Oral presentations will be 8 minutes + 2 minutes Q&A
Oral presentations should be done in Microsoft Powerpoint. They will be uploaded onto a laptop on May 1st, a few days prior.
All presentations should display the UT DRO logo
Poster Presentation Guidelines
Posters need not be expensive, but should be clear, legible from a 1 meter distance and fit onto a 6'x3' poster board
A supply of Velcro dots will be available in the poster area for mounting your poster.
We will be holding a Rapid Fire Session for the posters. All poster presenters are required to participate in the Rapid Fire Session. Each presenter will have 1-minute to present 1-3 key take home messages about their project.
A single Powerpoint slide needs to be submitted for the Rapid Fire session and should include your name, the title of your presentation, and what your research project is about. The Powerpoint slide is due April 18th, 2017.
Posters need to be removed at the end of the day. Those left behind will be placed into recycling.
Please see additional guidelines here:Poster Presentation Guidelines 2017.pdf

(113.47 KB)
Instructions for submission
Abstracts will be submitted on-line (link will be posted when available)
Abstracts must be submitted by the deadline (to be announced)
Any trainee who has a UT DRO Faculty member as a supervisor is eligible to present at Research Day
All clinical, translational and basic science work will be considered
One first-author submission per trainee
Maximum 450 word limit
Format will be: purpose; methods; results; conclusions as per the on-line submission tool
Abstracts with "results to be presented" will not be considered, although submitted results may be updated at the meeting presentation.
Selection process
All abstracts will undergo blinded peer-review, and will be chosen for one of oral presentation, poster presentation, or not for presentation
Presenters will be notified of their status