Delivery Format & Pathways
The Program is based in a blended delivery format  (a combination of on-campus and online learning), as either a two-year full-time or three-year Extended Full-Time (EFT)* curriculum. The majority of coursework will be completed online using interactive webconferencing technology.  A series of 3-5 day intensive institutes will be held in Toronto throughout the program.
A strong foundation in all areas will be built in the first year of the Program, but specialization (primarily in the second year) will allow learners to choose the pathway most relevant to their expertise and career goals. The curriculum consists of coursework (required and elective), practica, and a master's research project - all designed to provide foundational radiation medicine content, expand clinical and reasoning skills, and further develop the skills of inquiry, innovation, knowledge translation, and evidence-based practice.
* Students may complete this full-time program either in two years (six sessions) or three years (nine sessions). The admission requirements for the two-year program and three-year program options are the same. The three-year EFT program option may appeal to working professionals who wish to complete the degree over an extended period of time, though many will find this manageable in the standard two year  option as well. For information about the 3Y EFT option, please contact the Program Director, Nicole Harnett, at nicole.harnett@utoronto.ca
MHScMRS Program Curriculum
The Program consists of 8.0 full-course equivalents (FCE). The credit breakdown is as follows:
required coursework (4.5 FCEs), completed through a mix of online format and face-to-face institutes
elective coursework (1.0 FCE), consisting of field-related courses, as approved by the Program Director
a major research paper (0.5 FCE)
experience-based immersive practica (2.0 FCEs)
It is not uncommon for potential students to wish to appreciate the day-to-day requirements of graduate education, in terms of both specific time commitments and overall workload. Regardless of the specific pathway, the first year of the Program tends to carry a courseload equivalent to 1.5 credits, which would equate to three 2-hour synchronous (online at the same time) sessions, or one 2-hour session per 0.5 credit course. In addition to this, each course will require a weekly average of 2-3 hours of independent reading, asychronous online discussion, or project work. Some courses may opt to hold synchronous sessions only every other week, in which case there would likely be a correspondingly higher expectation for independent study. To better accomodate those who wish to maintain full-time employment, synchronous sessions will typically be scheduled adjacent to typical workday hours (ie 8-10AM or 4-6PM, varying for those in different timezones).
While most program requirements can be completed from home - be it in Toronto, elsewhere in Canada, or internationally - three 3-5 day campus-based Institutes will be scheduled in the first year, and will require the learner to be present in Toronto. These are typically held in early September, mid-March, and mid-June of Y1, and dates will be made available well in advance of the start of the Program for any given cohort.
The winter and summer semesters of the second year of the program involve less coursework with set meeting times, instead focusing on experience-based immersive practica and self-directed research. Depending on the topic area of interest and the nature of the chosen learning/research environment, the degree of flexibility in achieving necessary course objectives will vary in Y2. For example, those completing work in the clinical environment may be limited to clinical work hours, while those in a research lab may have the opportunity to choose evenings or weekends. Others may arrange periodic intensive weeks in their practicum environment throughout a semester.
Please see below for schema of each of the three proposed pathway curricula, course descriptions for Program courses, and examples of typical weeks at various times in the Program.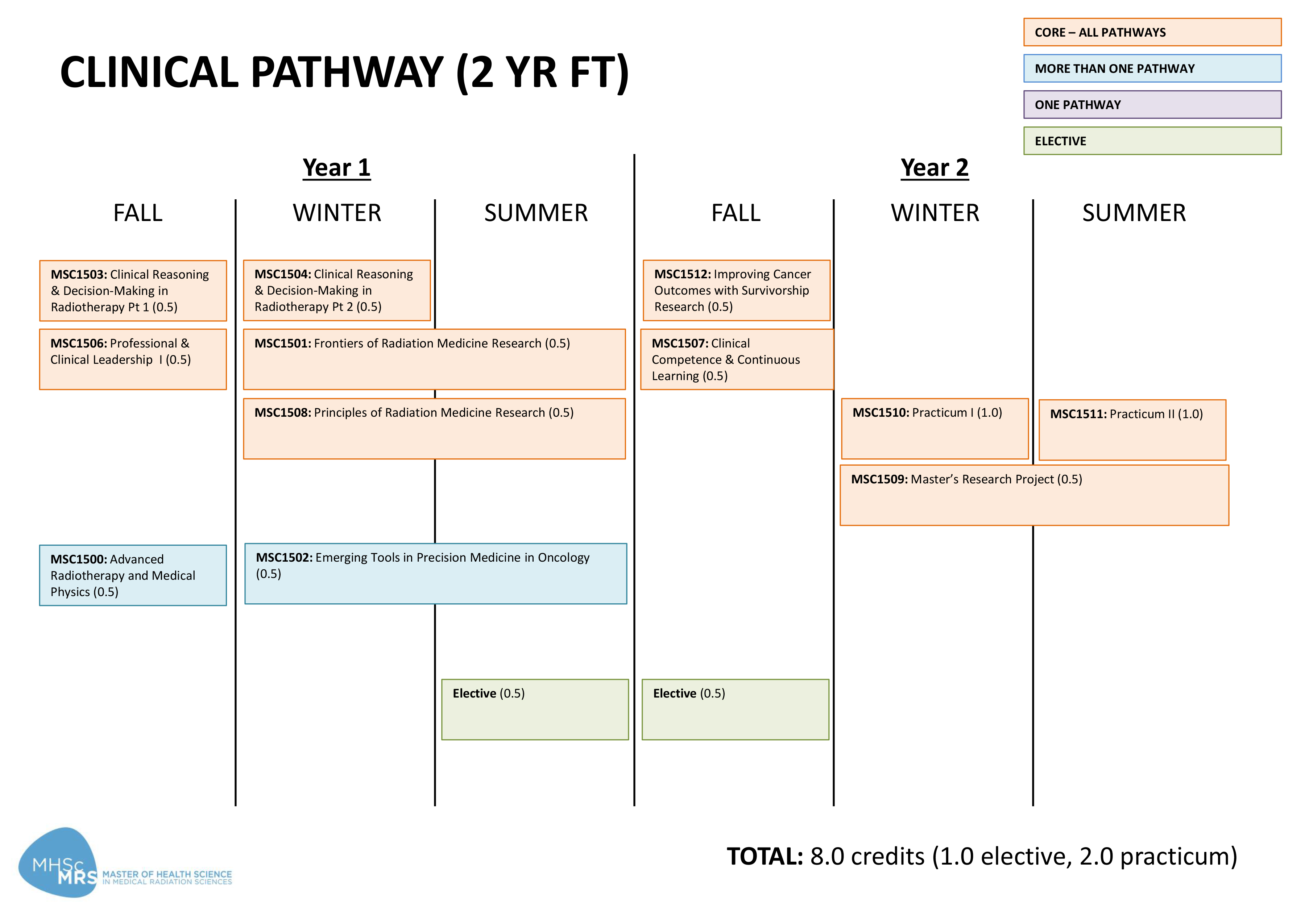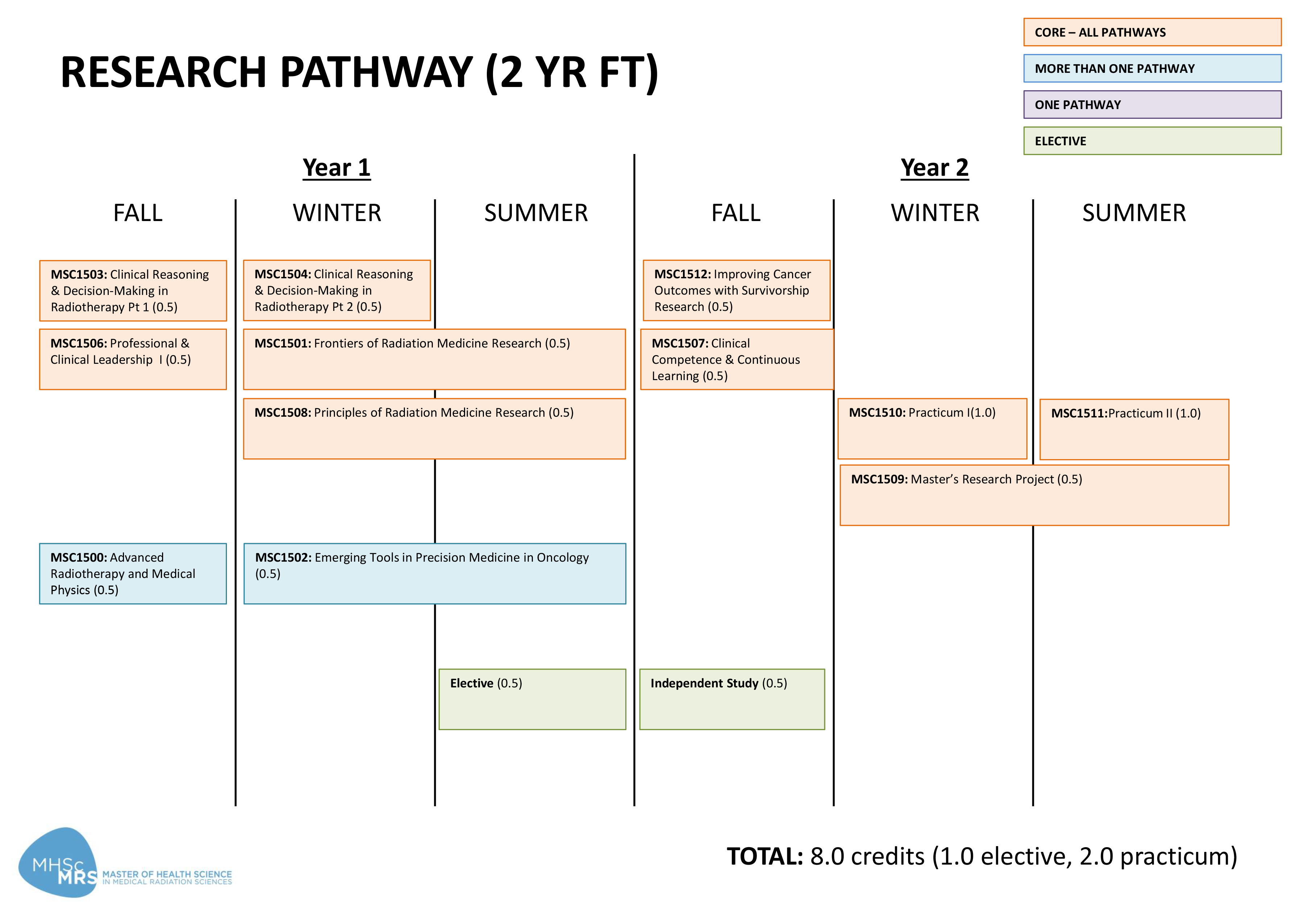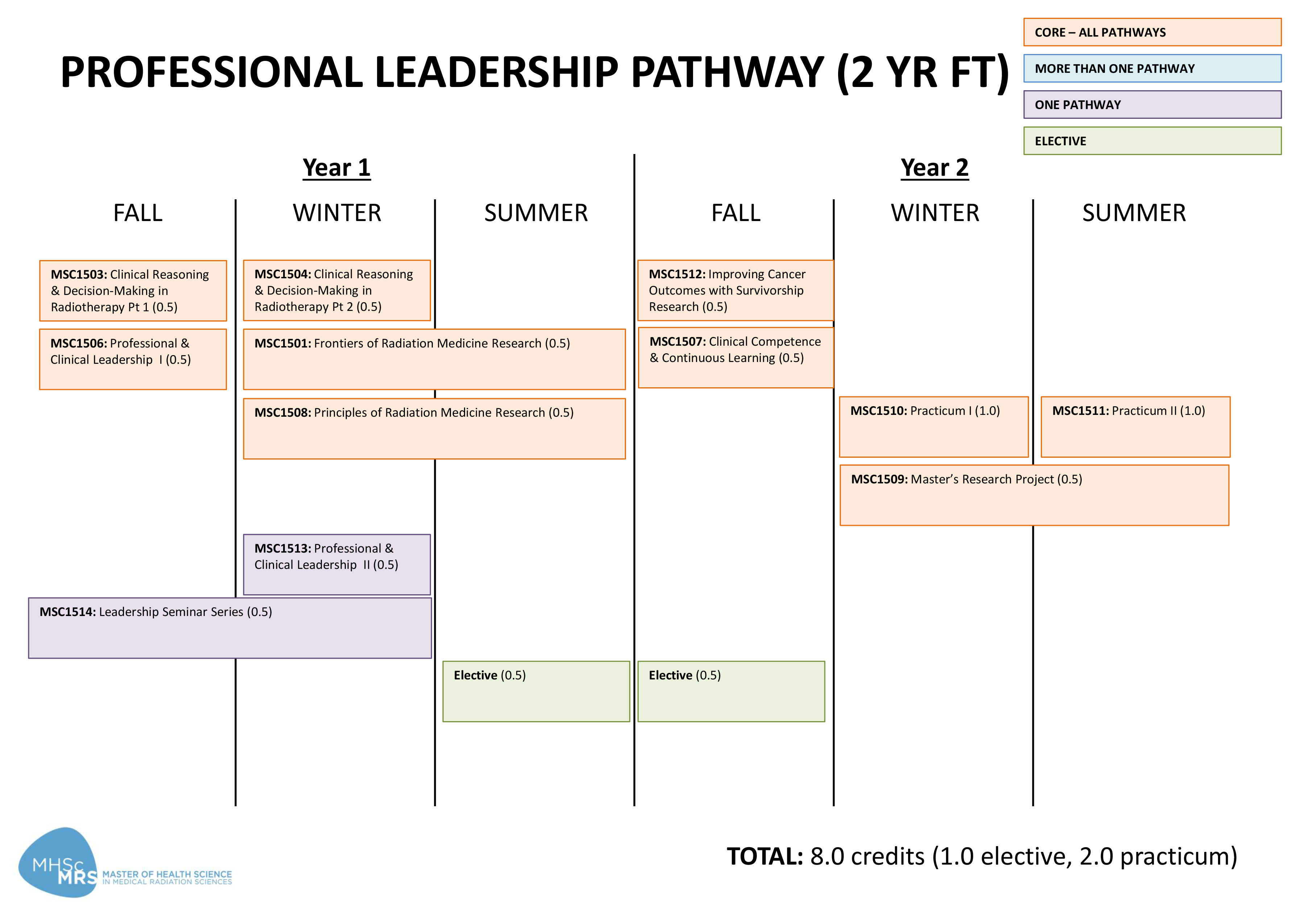 Course Descriptions
Descriptions for individual courses are available to download. Each course is taught by a subject matter expert, generally either a faculty radiation therapist, radiation oncologist, or medical physicist affiliated with the Department of Radiation Oncology at the University of Toronto.