Note: The Keynote speakers for RTi3 2018 will be announced soon. Below is a list of the RTi3 2017 speakers.
Interprofessional: Dr. Christopher Charles
Embracing complexity: finding simple solutions to malnutrition in resource-poor settings 
Dr. Christopher Charles is a physician and epidemiologist with extensive experience in the design, implementation and monitoring and evaluation of large public health nutrition projects aimed at improving the lives of poor rural women and children in Asia. Christopher has a PhD in Biomedical Science and Population Medicine from the University of Guelph, Canada and completed his MD at the Michael G. DeGroote School of Medicine, McMaster University, Canada. Christopher is the inventor of the Lucky Iron Fish™, a novel, in-home iron fortification technique currently in use in over 75,000 households around the world. Dr. Charles has worked as a public health and nutrition consultant for various NGOs and UN agencies in the region, and advises the Cambodian Ministry of Health in the development of national nutrition policy. His research interests are related to healthy equity and social justice, food-based approaches to improving nutrition, maternal and child health, and innovative methods of improving food security. Dr. Charles is currently a resident physician in anesthesiology at the University of Toronto.
Synopsis
Only by tackling complex public health problems with simple solutions will we achieve lasting success. This talk will highlight the state of malnutrition around the world today, and will go on to show that through culturally relevant, interdisciplinary and evidenced-based work, we are able to begin to solve one of the most important health problems affecting material and child health around the globe. 
Innovate: Jenny Soo
Patient Education – Just K.I.S.S. and Make-Up
Jenny Soo is a Radiation Therapy Clinical Educator at the BC Cancer Agency – Vancouver Centre.  Her responsibilities include planning and directing Radiation Therapist Education & support the mission set by the Radiation Therapy profession.  As a Clinical Educator, she oversees (1) the development of the knowledge, skills, ability, and aptitude of radiation therapy staff and students (2) the enhancement of radiation therapy patient education programs and (3) the promotion of professional and public education regarding Radiation Therapy and Radiation Therapists.
Jenny's educational background includes a Bachelor of Science degree in Biochemistry and Kinesiology.  Shortly after certified as a Radiation Therapist, she went on to complete her Master's degree in Education.   Jenny likes to work in the area of interface between education and clinical practice.
Jenny believes the quality of patient care is dependent on how well patients understand the information presented to them during their journey with cancer.  When patients are bombarded with information and having to process on their own, it can lead to confusion and fear.  Jenny feels if this can be addressed early in the treatment journey, this may improve patients' quality of care and satisfaction.  Jenny has been a recipient of various grants, has published in several peer-reviewed journals, and volunteers with the CAMRT. Her other research interests include palliative care, student education, radiation therapy utilization, and patient education. 
Synopsis
Patient education is evolving and continues to evolve as we no longer aim to just 'tell' patients what to do.  We, as healthcare practitioners, are empowering our patients and engage them in their care.  Patients are presented with volumes of information and medical jargon.  Combined with the stress they are experiencing, they cannot be expected to understand or remember everything they are told in the clinic.  How can we balance getting the information across and help the patient even after you have left them?  This session will discuss the frame of mind and journey of developing educational tools for patients and families in the clinical setting.
Inspire: Kathryn Moran
Good luck with that….Making your own opportunities
Kathryn Moran has been a practicing Radiation Therapist at the Nova Scotia Cancer Centre, and a member of the Canadian Association of Medical Radiation Technologists since 2003.  Kathryn first graduated from Mount Saint Vincent University in 2000 with her Bachelor of Science, and immediately followed that with her Bachelor of Radiation Sciences and Diploma in Radiation Therapy from the University of Toronto and Michener Institute for Applied Health Science.  Her main passion in Radiation Therapy is in quality, safety and patient engagement, and has grown over the years by taking on local, provincial, regional and national initiatives.  Since 2013 she has been a participating member of the Canadian Partnership for Quality Radiotherapy Incident Reporting Working Group, and was a planning committee member for the Canadian Organization of Medical Physicists Winter School from 2013-2016.  In 2016, Kathryn was appointed to lecturer in the Dalhousie University Department of Radiation Oncology.
Synposis
In the INSPIRE address, Kathryn will relay her experiences with making her own opportunities through numerous improvement projects, despite limited resources within the healthcare environment.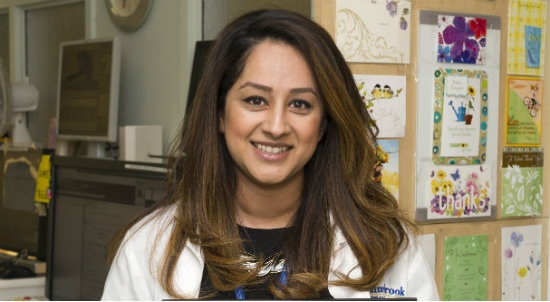 Inquire: Ruby Bola
Think Outside the Bunker
Ruby Bola graduated in 2007 from the University of Waterloo with an Honors Bachelors of Science in Biomedical Sciences.  She continued her health professional education at the Michener Institute for Applied Sciences and University of Toronto, graduating from the undergraduate medical radiation sciences program in 2014 within the discipline of radiation therapy.  She is currently a Radiation Therapist at Sunnybrook Health Science Centre's Odette Cancer Centre, where she was recently awarded the TASHNp Oncology Health Professions Innovation Fellowship.  She is involved in Gynaecological Malignancies Peer Review Site Group where her work with Peer Review Rounds has been presented at RTi3 2016 and CARO 2016 most recently. She is involved in the Patient Experience Committee, and is a University of Toronto Interprofessional Education Facilitator. Her research interests include enhancing the patient experience through Quality Improvement. 
Synopsis
Ruby's Inquire Keynote talk will highlight her recent OAMRS Blog 'Think Outside the Bunker' which challenges junior clinicians to build inquiry into their clinical practice early on in their professional career.