South America's Future Leaders of Radiation Medicine: Fabio Moraes, Lucas Mendez, Pablo Munoz
THIS IS AN EXCERPT FROM THE 2016-2017 ANNUAL REPORT.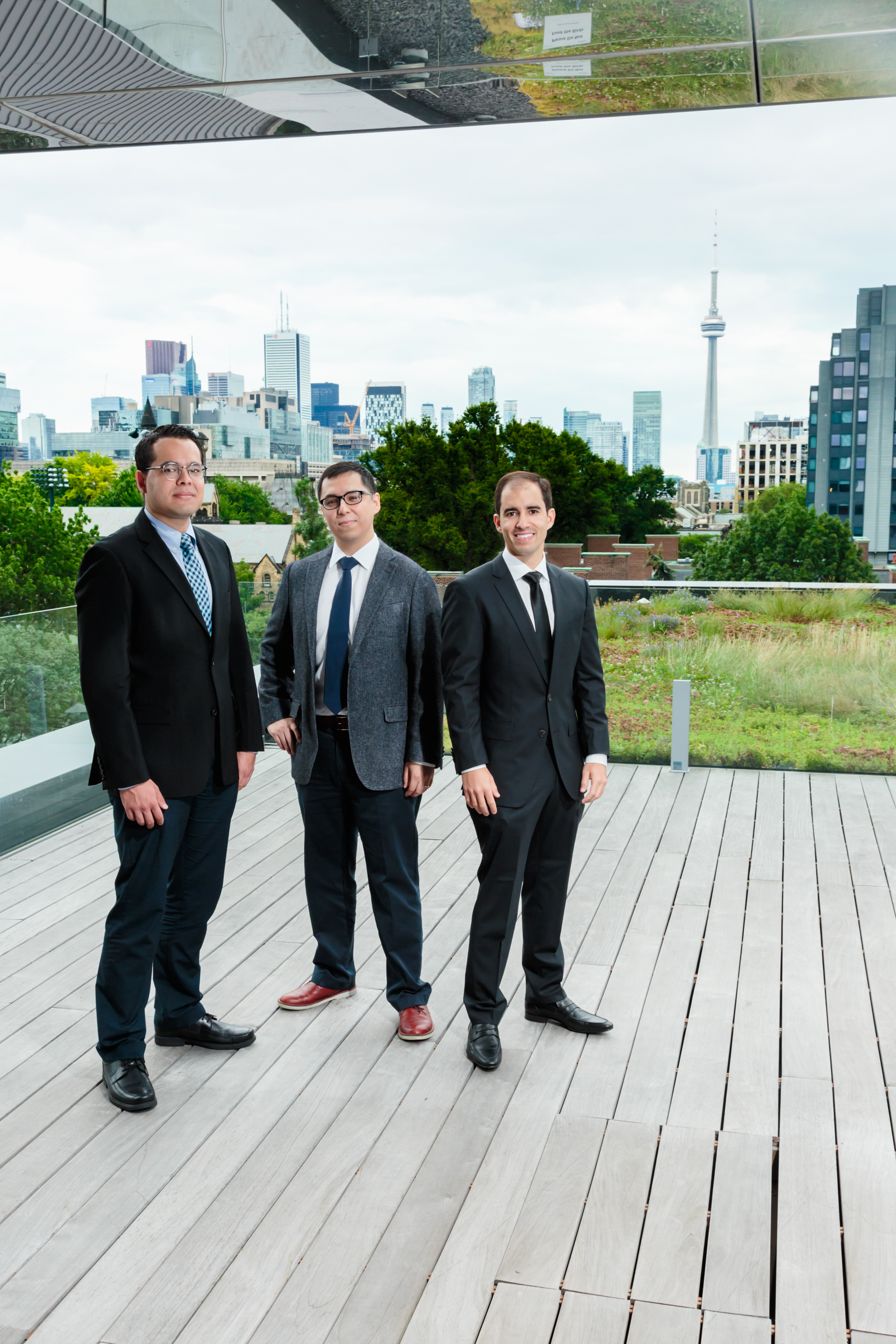 When Fabio Moraes, who is originally from Brazil, started his Clinical Fellowship at the Department of Radiation Oncology, University of Toronto (UTDRO), he was certain that he would return to South America after his training. "I was totally sure that I was going to go home," he said. "But with the enormous opportunities and support I have been exposed to at UTDRO, I feel that I can make a greater impact on cancer care, not only in Brazil but all of South America, if I extend my stay in Canada and focus on my research, clinical care and leadership initiatives."
Over the last two years, UTDRO has welcomed three Clinical Fellows from South America. UTDRO has an established history of attracting clinical fellows from both Canada and other parts of the world. Until recently, the number of South American fellows in the program was relatively limited. It has been a delight to have Fabio, Lucas and Pablo join the program and stay on to further their expertise. They showcase the success that is possible, and we hope that this will reach other trainees in South America and allow us to expand the impact of the UTDRO program in the future.
For the clinical component of his Fellowship, Fabio is focused on patients with central nervous system and the spine neoplasm. "I am currently committed to discovering, investigating, and developing transformative therapies that will improve the outlook for cancer patients," he commented. "I am learning to analyze unique tumor genetic characteristics, which will help me interpret and translate bench findings and potentially apply it in the clinic setting."
During his undergraduate and medical training, Fabio played tennis professionally and represented Brazil in international tournaments. However, he gave up tennis to focus on his medical training. During his Radiation Oncology Residency in São Paulo, Brazil, Fabio also enrolled in a PhD program, which he hopes to complete in 2017. "Being a PhD student was a great opportunity for me," he said. "It helped me better understand research and to learn more about radiation medicine.
Lucas Mendez also hails from Brazil. He spent his younger years in Salvador-Bahia, and moved to São Paulo for his radiation oncology residency. He completed a Fellowship at the Hospital Israelita Albert Einstein and then moved to Toronto for a Clinical Fellowship focusing on brachytherapy for genitourinary and gynecologic tumours. 
Lucas is currently enrolled in a Masters program through the Institute of Medical Science at U of T under the supervision of Dr. Shun Wong and the gynaecological team at OCC.  "For my thesis, I am exploring ways to simplify radiotherapy techniques for cervical cancer so that it can be more accessible for low and middle income countries," he explained. "In Brazil, we don't offer image-guided brachytherapy routinely for gynecological tumors. This is unfortunate because Brazil has a high incidence of locally advanced cervical cancer. I want to help bridge the gap between state of the art treatment in cervical cancers and MRI inaccessibility in the developing world."
Chilean Radiation Oncologist, Pablo Munoz, is also a Clinical Fellow at UTDRO. Pablo completed his medical school and residency at the Pontifical Catholic University of Chile, and then joined the University as a faculty member. After his training in Toronto, Pablo plans to return to Chile as an academic radiation oncologist.
During his Fellowship at UTDRO, Pablo is focusing on high-precision radiotherapy, or SBRT, for thoracic and gastrointestinal malignancies. When he returns to Chile, Pablo intends to introduce image-guided and high-precision radiotherapy to the hospitals. "There is a critical lack of expertise in these areas," he said. "I want to build on my experience here at UTDRO and apply my knowledge to take on a leadership role in high-precision radiotherapy in South America."
In addition to clinical duties, all UTDRO fellows spend time conducting research. "Research to advance the field of radiation medicine is embedded in the ethos of UTDRO," noted Pablo. They all agree that even though adjusting to a new environment and clinical duties take up much of their time, they are committed to research and want to be involved as much as possible. 
Lucas is one of the Principal Investigators on a funded Phase 1/2 trial at the Odette Cancer Centre, along with Gerard Morton, an Associate Professor at UTDRO. This trial is exploring safety and feasibility of combining two different brachytherapy techniques, high dose rate and low dose rate, to treat prostate cancer.  "This is the biggest highlight of my training at UTDRO," said Lucas. "The mentors and faculty at U of T provide you with the capabilities and opportunities to reach beyond your limits. They didn't provide me with answers; they gave me the tools to find the possible solutions for a specific question and to conduct the study from start to finish." In addition to this study, Lucas recently published a paper in Radiotherapy and Oncology, which was rated by the American College of Radiology as the top gynecology paper for that month. 
I want to build on my experience here at UTDRO and apply my knowledge to take on a leadership role in high-precision radiotherapy in South America.
- Pablo Munoz
Pablo has been involved in research at both the Odette and the Princess Margaret Cancer Centres. In collaboration with UTDRO Professor Laura Dawson, Pablo has been exploring SBRT as a bridge to transplant therapy for patients with hepatocellular carcinoma. Recently, he received a trainee award for his research proposal on kidney SBRT from the Canadian Urological Oncology Group. Pablo is also working with UTDRO Professor Rebecca Wong to analyze the quality of life in patients with oligometastases who are treated as part of an ongoing Phase 2 trial at the Princess Margaret. He noted that in South America, trainees "are not exposed to clinical trials and cutting edge research because the healthcare environment is very different. We are fortunate to be at UTDRO where research is embedded in the culture of the Department."
Fabio explained that he was already involved in research in Brazil. "I was mapping radiation oncology facilities in Brazil to explore how the lack of these facilities is having an impact on cancer care in Brazil." Due to this work, he was invited to join the Union for International Cancer Control (UICC) and presented with a Young Leaders Award by UICC. With UICC, Fabio has been working on several global cancer control projects. Earlier this year, he was invited to participate in the global cancer staging consultation at the Lancet headquarters in the United Kingdom. Fabio's international collaborations were also recognized by U of T through the Postgraduate Medical Trainee Leadership Award.
Fabio and Pablo were invited to be the 2017 co-chief Fellows for their program. "In this role, we try to advocate for our program on different levels," said Fabio. "It is a great experience for us to learn leadership skills directly from the Chair and the program directors. We are involved in discussions and decision making which will impact not just the current trainees, but future trainees too."
"This experience of acting as co-chiefs has changed the way we look at leadership," Pablo added. "We need to help our fellow trainees achieve their goals. And it's not just about us, here at UTDRO. We have to think globally. UTDRO is training radiation oncologists and scientists who will go back to different places in the world. In this way, UTDRO is impacting radiation medicine globally through the Fellowship program."
IMAGE CREDIT: HORST HERGET PHOTOGRAPHY
<<  Previous                     [Return to Annual Report Table of Contents]                     Next >>