Balancing Clinic, Research and Advocacy as Chief Resident: Ezra Hahn
THIS IS AN EXCERPT FROM THE 2016-2017 ANNUAL REPORT.
As the Chief Resident at the University of Toronto's Department of Radiation Oncology (UTDRO), Ezra Hahn carefully balances his responsibilities with academic work, clinical training, research and personal life.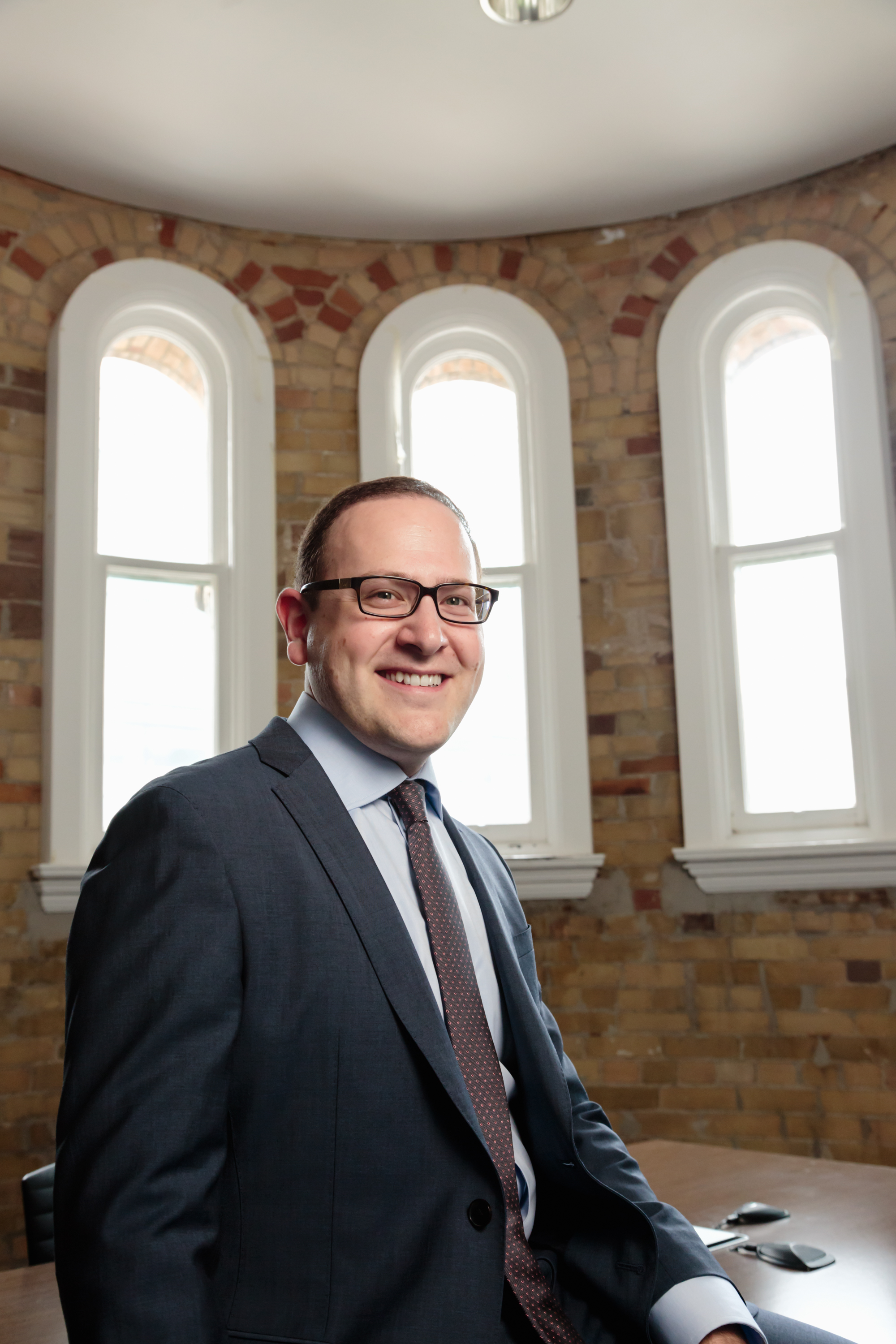 Even though Ezra completed his undergraduate degree in Mathematics at York University, he steered towards medicine and joined U of T's medical school. For his residency, Ezra chose UTDRO because Radiation Oncology combined his interests of mathematics, biology and patient interaction in one field.
Now in his fifth year of the Radiation Oncology Residency program, Ezra has been involved in mentoring junior residents and medical students. 
Ezra's mathematical background has provided him with a unique foundation of knowledge that he can use to contribute to different types of research. "My research interests in mathematical modeling, machine learning and big data are like a tool that can be applied to different clinical questions and disease sites," he said. 
Earlier in his residency, Ezra worked with UTDRO Professor David Hodgson to produce mathematical models of cardiac toxicity following radiation treatment in survivors of Hodgkin's Lymphoma. His research tracked patients over decades to find a link between radiation treatment and heart disease. This study was published in the International Journal of Radiation Oncology Biology Physics and led to Ezra being awarded the Clinical Care and Epidemiology Book Prize at CARO in 2016.
Ezra is now working with Justin Lee, Assistant Professor at UTDRO, to pilot a hypofractionated SBRT approach to improve the quality of life in patients with advanced or metastatic breast cancer. For this research, Ezra received the Ellen Epstein Rykov Memorial Prize from U of T's Department of Post MD Education.
Andrea Bezjak, Professor at UTDRO and the Director of the Radiation Oncology Residency program, notes that "Ezra exemplifies the well-rounded trainee who is able to excel both clinically and academically," she shared. "He is setting himself well for a promising career ahead."
Last fall, the Princess Margaret Cancer Centre recognized Ezra's "excellence, patient centred values and inclusion of multidisciplinary input" with the Robert V. Brady Resident Award for Exemplary Compassion, Advocacy, and Patient Care.
In addition to his research and clinical duties, Ezra manages to carve out time for advocacy and educational activities. Being the Chief Resident, he organizes academic half days for his fellow Residents during which Residents are exposed to mock drills of possible cases they might come across in the clinic. 
He also advocates for the program and often meets with medical students who are interested in the Residency program. He recalled an instance when he was asked to share some real-world cases with a group of undergraduate medical students. "I had personal experiences from my own clinics to share with this group," he said. "And I found that very rewarding. By teaching these students, I reinforced my own knowledge." 
Upon completing the Residency program, Ezra hopes to begin a Clinical Fellowship focusing on head and neck cancers at UTDRO. "I want to continue learning and teaching at UTDRO," he said. "My experience here has been phenomenal thus far. The faculty are truly world-class and I want to continue learning with them."
<<  Previous                     [Return to Annual Report Table of Contents]                     Next >>