Mobilizing CSRTs Today for a Better Healthcare System Tomorrow: Laura D'Alimonte and Kitty Chan
THIS IS AN EXCERPT FROM THE 2016-2017 ANNUAL REPORT.
The Masters of Health Science in Medical Radiation Sciences (MHScMRS) program trains radiation therapists for leadership roles. Therefore, it is not surprising that most of the alumni of this program are now Clinical Specialist Radiation Therapists (CSRTs), helping to improve the efficiency and effectiveness of the healthcare system and patient outcomes.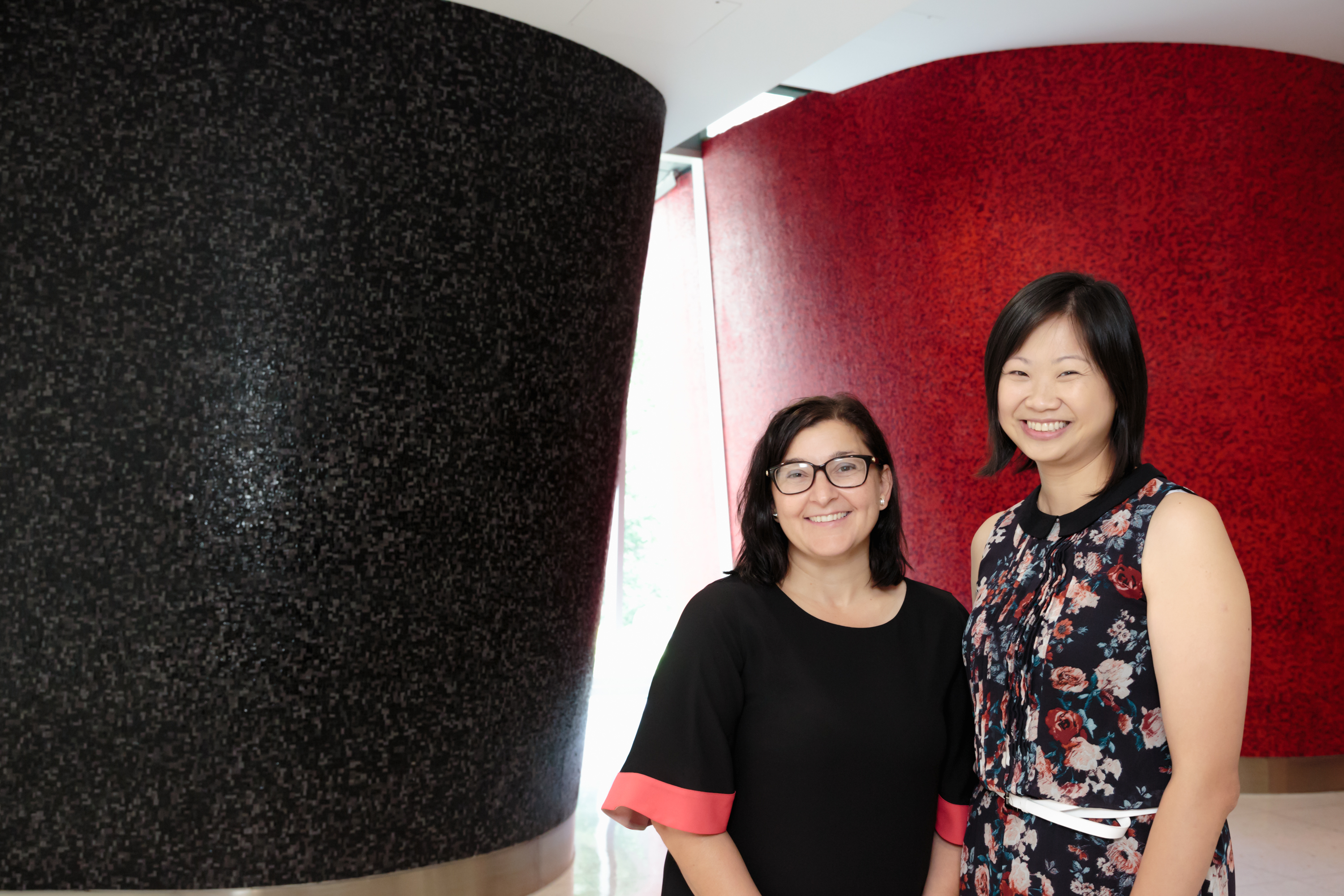 The CSRT role was created by Cancer Care Ontario as a pilot project to explore the benefits of advanced practice in radiation therapy. They observed that empowering, training and enabling radiation therapists to perform advanced practice tasks yielded greater benefits to the cancer care system. CSRTs were able to expedite the treatment process, which saved both the patients' as well as the physicians' time; and they were able to increase patient throughput, which saved the system time.
In 2015, the CSRT group in Ontario branched out on their own and created a Community of Practice (CoP) supported by Cancer Care Ontario. The objectives of this CoP were to support the Ontario CSRTs to the CSRT profession, and to advocate for CSRTs Canada-wide.
Laura D'Alimonte and Kitty Chan are both graduates of the MHScMRS program, and CSRTs focused on brachytherapy. Kitty is based at the Princess Margaret Cancer Centre (PM), and Laura is based at the Odette Cancer Centre (OCC).
When the CSRT CoP issued a call for co-chairs, Laura jumped at the opportunity. "Since my undergrad at U of T/Michener, I was interested in leadership opportunities," she said. "The MHScMRS program exposed us to various leadership roles and skills, and increased my interest in leadership opportunities. As the Interim Professional Practice lead at OCC and as a CSRT, I was working in leadership roles when the CoP was created. This co-chair role with the CSRT CoP is a culmination of years of training, and building upon leadership experience for me."
Kitty was already a CSRT and part of the CoP at the time of its launch. A few months later, she joined Laura as a co-chair of the group. "I leveraged the MHScMRS program to broaden my horizon," she said. "In the program, I explored how radiation therapists fit in leadership positions in healthcare. I learned the importance of building our profession today so that we can be its leaders tomorrow. That is why the co-chair position for our CSRT CoP appealed to me."
As the co-chairs, Kitty and Laura have been busy carving out goals and deliverables for their group of CSRTs. "At the end of the year, we need to be able to quantify the contributions that CSRTs make," Kitty explained. We need to build a business case for hospitals and demonstrate the value of having a CSRT on board."
They have created four working groups within their CoP, each of which will provide evidence of the benefits of implementing CSRTs in the hospitals:
CSRT in the palliative setting to show how CSRTs benefit the patients and the centres
Advanced practice resources to capture workload codes and define advanced practice roles
Communications to raise awareness about the CSRT roles nationally and to connect with advanced practice professionals around the world
Advanced practice certification to support CSRTs in obtaining the Advanced Practice Radiation Therapist (APRT) certification from the Canadian Association of Medical Radiation Technologists
"Through these working groups, we ultimately want to become an autonomous group of certified professionals who are integrated into every cancer centre in Canada," added Laura. "And for that, we need to look beyond our centres' immediate needs. We need to look at the needs of the healthcare system 10 years from now, and start building the case within our profession today."
IMAGE CREDIT: HORST HERGET PHOTOGRAPHY
<<  Previous                      [Return to Annual Report Table of Contents]                      Next >>