Srinivas Raman: Radiation Oncology Resident Excelling in Research
THIS IS AN EXCERPT FROM THE 2015-2016 ANNUAL REPORT.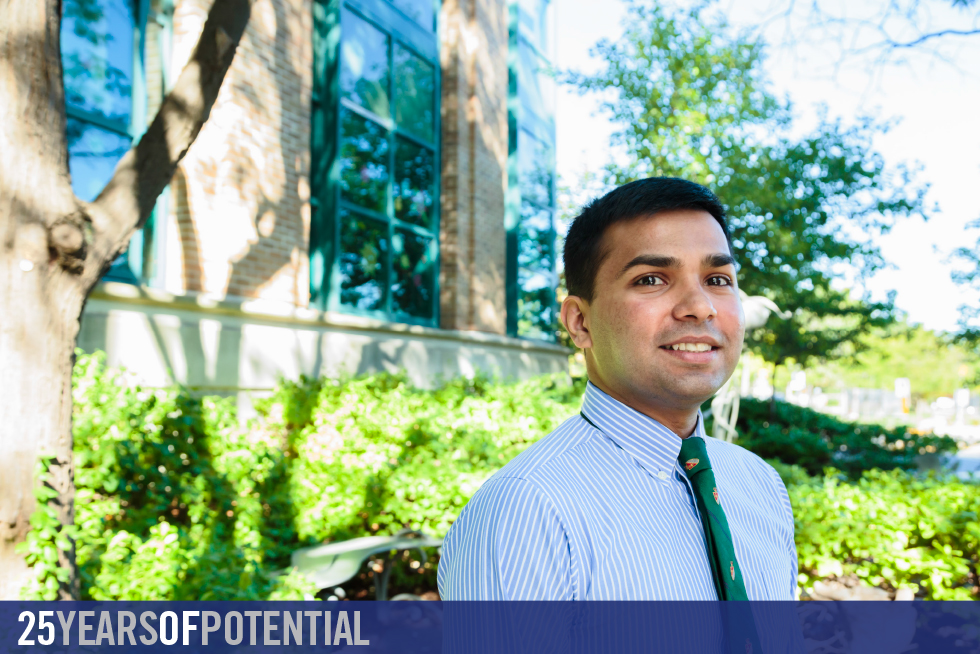 When Dr. Srinivas Raman was called upon to receive an award at this year's UTDRO Alumni Reception at ASTRO, he had just one thought running through his head: "I am so honored and humbled to be chosen for this award from such a talented group of individuals, whom I admire and learn from every day."
Srinivas is currently a PGY4 in the Radiation Oncology Residency program at UTDRO. Originally from Vancouver, he has been involved in research and medical education from the time he arrived in Toronto.
In Vancouver, Srinivas completed his Bachelors and Masters degrees in Mechanical Engineering from the University of British Columbia (UBC). He then switched gears and applied for medical school at UBC. It was during his medical training that he first learned of Radiation Medicine and UTDRO. "UTDRO has a very strong, international reputation for radiation oncology," he said. "I knew that there were a lot of research opportunities here and that is where I wanted to be."
Since his first year in the Radiation Oncology Residency program, Srinivas has been pursuing research in the areas of imaging and clinical trials. At the Princess Margaret Cancer Centre, he worked on a clinical trial for adapting radiation treatment based on PET imaging features with UTDRO faculty members Drs. Alexander Sun and Jean-Pierre Bissonnette.
Following this, he spent some time at the Odette Cancer Centre researching the use of quality of life instruments in palliative radiotherapy with Dr. Edward Chow, Professor at UTDRO and Radiation Oncologist at Odette. For this research, he won the 2016 Young Investigators Award at the Multinational Association of Supportive Care in Cancer (MASCC) Conference in Adelaide, Australia.
Srinivas was also recognized for his research at the 2016 UTDRO Alumni Reception at ASTRO where he received the Bernard J. Cummings Award for Research Excellence. This award recognizes trainees who have demonstrated excellence in research with the potential for strong impact in Radiation Medicine.
Dr. Edward Chow has been supervising Srinivas's research at Odette. "Srinivas is a brilliant researcher," Edward told UTDRO. "He truly deserves these awards because he has accomplished a lot during his first three years of residency, both in terms of research quantity and impact of his work. He is extremely hard working, intelligent and passionate about the clinical and research aspects of radiation oncology. He has a very bright future in our field."
Srinivas is grateful for the opportunity to start his research projects in his first year. "It was been very rewarding to be able to conceptualize an idea, write up the protocol, obtain funding, see it undergo research ethics submission and start accruing patients. I am lucky to have seen the whole process during my residency."
He also feels lucky to work with patients in a clinical setting. "Every day in the clinic reinforces my passion for radiation oncology," he said. "I am so grateful for the opportunity to bond with patients and support them during their most vulnerable times." In the final two years of his residency, Srinivas plans to continue his research and apply for a research fellowship in radiation oncology. 
IMAGE CREDIT: HORST HERGET PHOTOGRAPHY
<<  Previous                      [Return to Annual Report Table of Contents]                     Next >>